Good old Coffee House

Indian Coffee House is a place where people meet and discuss everything under the sun. Though modern coffee cafes have sprung up, the common man prefers this joint because here the prices of filter coffee and eatables are reasonable, says MJ Raju
It was in September 1936 — 75 years ago — that the first Indian Coffee House, started by the Indian Coffee Board, opened at Churchgate in Mumbai. Since then this institution has had many ups and downs. Much like the coffee houses of Europe, Indian Coffee House quickly became a rendezvous for the intellectual and the dilettante alike. At the height of its glory, the chain, operated by the Indian Coffee Board, numbered 72 outlets, and essentially introduced the filter coffee habit in the tea-drinking North. In the 1950s, however, the business was not doing well, and the Indian Coffee Board decided to close down the Coffee Houses.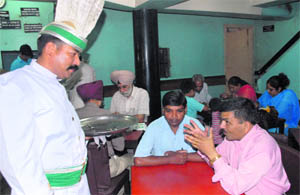 Indian Coffee House is a breeding place of several political and cultural personalities and movements Tribune photo
That marked the beginning of a unique cooperative venture — Indian Coffee House. Under the leadership of Communist leader AK Gopalan, the dismissed workers took over the place to run without any management. The first Indian Coffee Workers Cooperative Society was founded in Bangalore on August 19, 1957. The first Indian Coffee House was opened in New Delhi on October 27, 1957.
The self-managed Indian Coffee Houses proliferated. Today, there are around 400 of them across India, managed by 13 cooperative societies. These societies are governed by managing committees elected from the employees. There is also a federation of cooperative societies as the national umbrella organisation to lead these societies.
There was a time when there used to be 12 to 13 outlets of the Indian Coffee House (ICH) in Delhi. The famous Connaught Place branch in Central Park was patronised by the late Prime Minister Indira Gandhi and former Prime Minister I.K. Gujral, besides other well-known names in the Capital's academic and journalistic circles, recalls Indian Coffee Workers Cooperative Society Ltd general manager Gabar Singh Gusain. "Mrs Gandhi really liked our coffee and sandwiches. Several times we were asked to do the catering for her official meetings. At times, she also asked for coffee and sandwiches to be sent from her personal account. One of our coffee vans was also parked outside the South Block," says Gusain. A senior journalist remembers it as the place where people would meet, discuss and debate everything under the sun. Politics, Socialism, art, issues before the country, films — everybody had an opinion on everything under the sun. A cup of coffee would cost 50 paise and it was a great place to hang around in for hours. Known painters of the time held exhibitions there depicting the issues of those times.
It was the place where people could walk in, have a glass of water (they always serve two glasses per person), not have anything and just walk out.
The most famous Indian Coffee House branch in Kolkata is the one at College Street, also known as Coffee House at College Street. It is situated opposite Presidency College, Kolkata, and has been for a long time a regular hang out place for students (and ex-students) of Presidency College., The history of Coffee House at College Street can be traced to Albert Hall, which was founded in April 1876. Later, the Coffee Board decided to start a coffee joint from Albert Hall in 1942. Notable citizens were frequent visitors to the place. In 1947, the Central Government changed the name of the place to Coffee House. This coffee house is famous for its adda sessions, and as the breeding place of several political and cultural personalities and movements.
Today, with the Tatas concluding an agreement with the famous Starbuck Coffee of the USA, things are bound to change for coffee lovers in India. Even otherwise in these days, modern coffee cafes like Barista/ Coffee/ Qwikys/ Caf Coffee Day have entered the market with coffee delights like dry Cappucino, Mocha Tease, Espresso Italiano, Espresso Macchiato with foamed milk, Irish Coffee, Cafe Latte, Cafe Mocha and new items like Solar Eclipse, Caramel Sin, Devils Own, Kappi Nirvana etc. But the aam admi still prefers Indian Coffee House, as the prices of quality filter coffee and steaming hot idlis and dosas are reasonable compared to four times the amount in its competitors' outlets.
Black and white framed photographs of Nehru, Gandhi and Indira Gandhi usually adorn the walls of each ICH and the waiters are dressed in white (well, whitish) uniforms. They are pretty basic places where the decor generally takes a back seat to the low prices and delicious dosas and masala dishes on offer. Things are cheap and simple in the ICH. Unlike the new, trendy coffee bars now in India, there is no long and winding menu of coffee types to choose from. —MF