Singing act

The trend of filmstars lending their voices to a host of musical numbers in movies has been catching up fast among the new breed of actors, writes Shama Rana
Songs and dance numbers are an integral part of Hindi commercial cinema. In this scenario, the actor singing his own lines proves to be a bonanza for his fans. The of actors today are just not content with running around trees or flexing their muscles and driving the villains away. They want their share in the musical potpourri as well.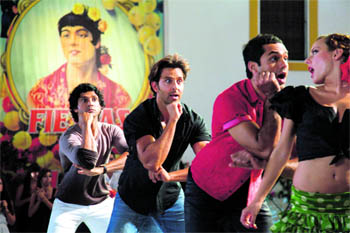 "Senorita" from Zindagi Na Milegi Dobaara saw Farhan Akhtar, Hrithik Roshan and Abhay Deol join hands behind the mike
While Amitabh Bachchan had recently lend his velvety voice in a foot-tapping number in Buddha Hoga Tera Baap, the song "Senorita" from Zindagi Na Milegi Dobaara saw Farhan Akhtar, Hrithik Roshan and Abhay Deol join hands behind the mike.
Hrithik tried his singing luck in Kites, while Farhan's film Rock On swayed the rock lovers nationwide as he wielded the mike to sing hit numbers like "Pichle saat dinon mein" and "Tum ho toh". But for the coy Abhay, this was a first brush with the recording studio. He doesn't mince words in adding that it was only possible because of today's state-of-the-art recording equipments that tuned his part of the song and made it listener-friendly. The actor said, "I told them that I won't be able to sing or dance. They told me to sing my way and they would make a course correction in case of any deviation from the tune."
The Hindi cinema produced its first singer-actor in the form of a legend — K. L. Saigal in the 1940s. Saigal was known for his trademark nasal twang, which came to be looked upon as something exotic and stylish. He is known for his performances in films like Devdas and Parwana. This truly marked the emergence of singing actors in the Hindi film industry. The 1930s and 1940s saw films like Chandidas, Devdas, Dhoop-Chhaon and Achhut Kanya, which had the hero singing and acting. Back then, it was more of compulsion than a trend as playback singing and lip-syncing was not prevalent.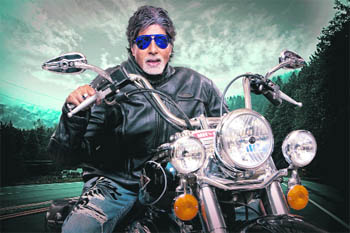 Amitabh Bachchan set the old and the young alike grooving to the tunes of Buddha Hoga Tera Baap
Apart from other popular actors-singers like K.L. Saigal, Ashok Kumar and Talat Mahmood, it was the legendary Kishore Kumar who shot to fame with the musical variations he brought in his songs.
After facing rejection as a singer initially, Kishore Kumar took to acting. For movies like Jhoomru, Half Ticket and Chalti ka Naam Gaadi, he lent his voice. He was not formally trained in music but he perfectly weaved magic in every genre.
When it comes to singing on-screen, the name of Amitabh Bachchan, who has done playback singing for more than 25 films, comes to the mind immediately. The legendry actor has lent his versatile voice for films like The Great Gambler, Lawaaris, Silsila, Khuda Gawah, Baghban, Baabul and Paa. Recently, he set the old and young grooving to the tunes of Buddha Hoga Tera Baap.
"When we get actors to sing, it is just to bring in a refreshing change, some fun element", says composer-singer Shankar Mahadevan, who has made Hrithik, Farhan and Abhay sing together for the song "Senorita". "Actors aren't professional singers. But they definitely help in creating a hype and buzz for a film if they sing," he says.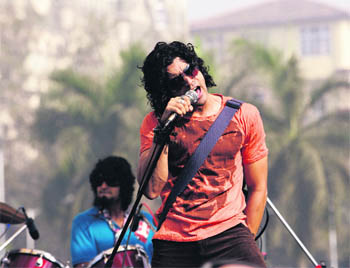 In Rock On, Farhan Akhtar swayed music lovers with hit numbers like "Pichle saat dinon mein" and "Tum ho toh"
The trend was actually re-introduced in the film circuit by Aamir Khan, who yodeled his way into the hearts of the youngsters with his song "Aati kya khandala" in Ghulam opposite Rani Mukerji. None can forget his tapori-style singing. Actor Sanjay Dutt too has sung a song "Aye Shivani" cast on Urmila Matondkar in the film Khoobsurat.
The song "Apun bola tu meri laila" was rendered by Shah Rukh Khan for Josh in 2000. The song featured Aishwarya Rai, who played Shah Rukh Khan's sister in the movie. Salman Khan, too, tested his vocal chords in Hello Brother.
Film critic Amod Mehra opines that there is nothing even remotely artistic about this new trend as, unlike in the case of singing stars of yesteryears, the present crop of stars are bad singers. "It's all commercial. Just another gimmick by the filmmakers to demand a better price for their film from the distributors and exhibitors," he says.
Akshay Kumar, who played a self-proclaimed loser in Housefull, also exhibited his singing skills with the song, "He's such a loser". He has again turned a singer for the sequel to this movie, Housefull 2.
Sajid Khan, the director of the film, confirms, "It is true that Akki is singing in my movie." Akshay sang for Priyadarshan's Khatta Meetha, besides Chandni Chowk to China. In rap style singing, he sang few lines in Singh is Kingg, along with international rap sensation Snoop Dogg. The title track topped the charts for a long time.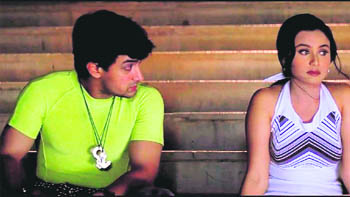 Aamir Khan re-introduced the trend with tapori-style singing in "Aati kya khandala" in Ghulam opposite Rani Mukerji
Abhishek Bachchan, who had first displayed his singing talent in Bluffmaster with hip-hop number "Right here right now", recently did a rap song "Thayn thayn" from Dum Maaro Dum. Vinay Pathak also made his singing debut for his role as an aspiring singer in Bheja Fry 2. Interestingly, female actors have kept away from the trend, barring a few like Sridevi, Priyanka Chopra and Kareena Kapoor.
Even Hollywood stars have not shied away from wielding a mike. Male and female actors have from to time crooned their way to success in many movies. She may have raised some eyebrows, but actress Gwyneth Paltrow sure can sing Country music. This Oscar-winning actress showcased her singing talent with the film Country Strong. Actor Jamie Foxx may have won an Oscar award for his performance in the biographic film Ray, but this actor's main passion is music. Foxx's music release, Best Night of My Life, became an R&B chart topping hit. When he is not acting in movies, Actor Russell Crowe dons the hat as the lead singer of The Ordinary Fear of God Rock band.
Nicole Kidman, who gave her stunning musical performance in the film Moulin Rouge, has previously released duets with her Moulin Rouge co-star Ewan McGregor and British singer Robbie Williams. She says people need to coax her into performing for a crowd. With the growing list of actors making them themselves heard on the mike, playback singers surely needs to look out for another vocation in the coming times.