Don 2 is back

Sreya Basu catches up with Farhan Akhtar, who has once again donned the directorís mantle for Don 2: The King is Back
Tell us something about Don 2.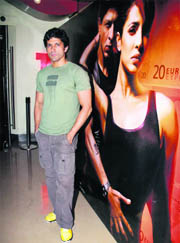 I really donít know what to say about the film as that way I will be giving out the whole story. It has been fun, challenging yet satisfying journey so far to make this movie. I was guilty of saying that I wonít probably make a sequel of Don, but my obsession with the character got the better of me. With amazing help and support and almost a sharing of vision with Ritesh (Sidhwani, producer) and Shah Rukh and rest of the team, I could not help but make Don 2.
Isha Koppikar has been dropped in Don 2?
There are two-three characters from Don: The Chase Begins Again (2006) who wonít be continuing in the sequel. One of them is that of Jasjit (played by Arjun Rampal), then there is that of Anita (Ishaa Koppikar) and there was a cop Inspector Verma`85even he is not in the sequel. The screenplay and story didnít need those characters to come into this one`85thatís the reason why you donít see them in this film.
Who is the ĎKingí of Don 2: The King is Back?
The king of Don 2 is undoubtedly Shah Rukh Khan.
Did you consult your father and writer Javed Akhtar on the script of Don 2?
Whatever film I write, I give it to him (Javed Akhtar) to read. I want him to give his feedback on screenplay, dialogues. He is somebody who is extremely experienced, somebody who is very good with the art and craft of writing; and fortunately I have this kind of access to him. It makes sense for me to use him and I use him to get feedback on not only this, but every script. ó TWF