ulta pulta
Formula won
Jaspal Bhatti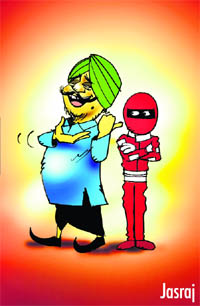 Truck driver Pala Singh asked his cleaner Bala, "Yaar, what is this Formula One racing?" Bala said, "Bhaji, I have heard it is very high-speed driving at 360 km/ph and 18,000 revolutions/per second." Pala replied scornfully, "You mean the kind of driving we do on the highways after taking a couple of large Patiala pegs?" "Formula one racing is for entertainment, " said the cleaner.
Pala quipped, "When we drink and drive, it is also for entertainment." Bala said, "Bhaji, you donít understand. This Formula One racing is such an exhilarating super-speed sport that sometimes when cars overturn or meet with terrible accidents, people are dumbfounded how the driver gets out unharmed."
Pala got angry now and retorted, "Where is the novelty in this? Donít you know when our trucks overturn in multi-vehicle accidents and are reduced to junk; people are equally stunned on seeing us drivers standing heroically on the roadside?
Pala showed a newspaper report to Bala, "Look, Manishankar Aiyar has said that Formula One racing in India is a criminal waste of money. That money should have been used to help the poor." Bala agreed, "Manishankar Aiyar is absolutely correct. The authorities should use this money to erect special stands along various national highways, so that poor people can enjoy truck driversí racing and appreciate their amazing survival skill in accidents."