2G loss a mathematical guess: CAG ex-auditor
Tells JPC actual loss was Rs 2,645 crore not Rs 1.76 lakh crore
Aditi Tandon/TNS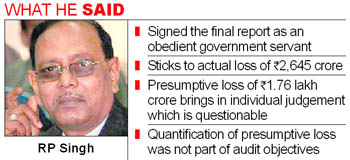 New Delhi, November 14
A former auditor today challenged the very basis of the 2G Spectrum scam and termed as a "mathematical guess" the presumptive loss of Rs 1.76 lakh crore which CAG estimated in his performance audit of the Spectrum allocation.
Appearing before the Joint Parliamentary Committee (JPC) probing the matter of 2008 Spectrum allocation at 2001 prices, RP Singh, former Director-General in charge of telecom audit in CAG, said the loss on 2G Spectrum allocation could not be calculated as auction of 2G Spectrum was never recommended by TRAI nor did the government ever contemplate any charges for Spectrum other than the entry fee.
RP Singh said Rs 2,645 crore was the only loss that occurred in the process due to non-revision of entry fee. Asked by JPC members if the loss in this context was zero considering his statement that presumptive loss could not be quantified, Singh stuck to the figure of Rs 2,645 crore as the sole loss and told the panel that this amount had been mentioned in the 2G audit draft report as the "actual and not presumptive loss".
In a significant remark before the JPC, RP Singh contended, "To show presumptive loss in context of 2G Spectrum allocation would be to bring in individual judgement which is questionable. It is at best a mathematical guess."
JPC chairman PC Chacko admitted after the meeting, "RP Singh told us that quantification of presumptive loss wasn't even part of audit objectives and it could not be quantified."
The question then is why, despite disagreeing with the CAG's presumptive loss figure, did Singh sign the controversial 2G audit report? Asked to clarify the contradiction, RP Singh told the JPC that he did so because he was asked to do so.
"He told us he did not disagree with CAG's 2G report and signed it as an obedient government servant. He also said he agreed with only his part of the contribution to the report which was a collective effort. We can understand what he means," Chacko said hinting that Singh signed CAG's final report under duress.
Here the JPC chief referred to an October 20, 2010, letter from Deputy CAG Rekha Gupta to RP Singh where the former wrote, "RP Singh has been asked to sign the last page. Let him read the final version here if he wants."
Importantly, though RP Singh, in the earlier 2G draft report, mentioned Rs 2,645 crore as the only loss, the field audit team working under him had projected a loss of potential revenue at Rs 26,685 crore to the government on account of entry fee due to non-issuance of licences and loss of interest. This was 10 times what Singh had calculated.