M A I N N E W S
No special privilege to Nirmal Yadav: HC
Saurabh Malik/TNS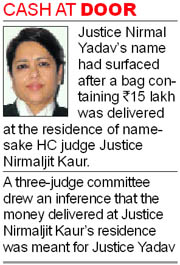 Chandigarh, November 14
Justice Nirmal Yadav cannot claim any special right or privilege as an accused just because she has enjoyed one of the highest constitutional offices. The decisive observations came this morning as the Punjab and Haryana High Court dismissed the plea of its own former Judge.
In the process, the high court also cleared way for her trial in the worst scam to have rocked the judiciary in this part of the region.
Justice Yadav had invoked the inherent jurisdiction of the high court for quashing the sanction order passed on March 1 by the President for her prosecution in the cash-for-judge scam. She had also sought quashing of the March 4 chargesheet presented against her in the CBI court.
Dismissing her plea, Justice Permod Kohli said: "Merely because the petitioner has enjoyed one of the highest constitutional offices, she cannot claim any special right or privilege as an accused than prescribed under law. The rule of law must prevail equally and uniformly, irrespective of the status of an individual."