M A I N N E W S
Bill to protect home-buyers from fly-by-night developers
Tribune News Service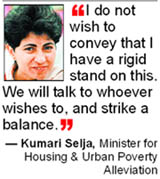 New Delhi, November 14
Registration of builders, adherence to approved plans and refund of money in cases of default will become mandatory under a new law that the Centre plans to bring in to usher in "accountability and transparency" in land selling and housing transactions.
Minister for Housing and Urban Poverty Alleviation Kumari Selja has made public the Real Estate (Regulation and Development) Bill 2011, under which the government would also establish a real estate regulatory authority.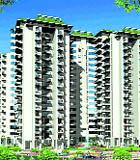 The long-pending legislation that seeks to protect home-buyers from fly-by-night developers is likely to be sent to the Union Cabinet for its approval during the winter session of Parliament. Once the law comes into force, no promoter or builder will be able to develop any immovable property without registering the real estate project concerned and obtaining a registration certificate from the proposed authority.
"The aim is to intervene and ensure transparency and accountability on the part of the promoter to the consumer," Selja said.
The major aim of such a legislation is to regulate the activities of the real estate sector and usher in an era of "accountability and transparency" in land selling and housing transactions. The minister has also written a letter to chief ministers enclosing a copy of the draft Bill, seeking their views on the legislation.
The proposed law also has a provision asking the promoter to compulsorily deposit a portion of funds received from the allottees in a separate bank account, to be used only for that project.
Once the promoter registers his project, the firm will be asked to open an online account, through which all the necessary documents will have to be sent to the authority, which will verify them.
It will also have the powers to impose penalty on erring promoters and to direct them to refund the money charged from the consumer.
The legislation also proposes establishment of a 'Real Estate Appellate Tribunal' to hear appeals on the authority's orders and to adjudicate on disputes. Both the Centre and states will have powers to make rules pertaining to subjects specified in the Bill.

Maharashtra to have real estate regulatory body
Shiv Kumar/TNS
Mumbai, November 14
The Maharashtra government will introduce the Real Estate Regulatory Authority Bill in the winter session of the state legislature. The regulatory authority will have civil judicial powers and will be headed by a retired judge, according to the draft Bill.
Under the proposed law, no builder will be able to begin construction of a project without obtaining the clearances from the regulator. Among other things, builders and developers will be required to register the project with the real estate regulator and obtain necessary approval before beginning construction. According to Housing Minister Sachin Ahir, the government has responded to the demands of flat buyers by making it mandatory for builders to obtain clearances from the regulator before modifying plans for a project.