The new competitive edge
"An established company which, in an age demanding innovation, is not able to innovate, is doomed to decline and extinction" — Peter Drucker
Ever since Peter Drucker stated that there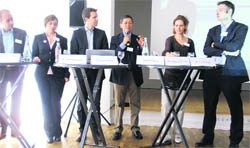 are only two constant factors in business — innovation and marketing — the need for continuously reinventing and changing business organisations, according to the present and future needs of the market place, has been in existence in the management ethos. While external turbulence and dynamic market conditions have come to stay for good, the challenges are quite different today.
An environment of trust between the management and employees builds when employees are given ample opportunities to hone their entrepreneurial skills in a corporate environment
Talk it out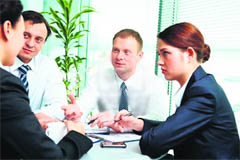 A healthy conversation is an effective remedy for almost all the workplace ills. But still a large majority of employees nurture hatred and ill will against their immediate colleagues with whom they spend most of their working hours. Simmering misgivings and misunderstandings occasionally erupt in ugly arguments over slightest provocation or in the form of bickering and tussle over seats and working space. Working amid such ill will hampers productivity considerably and causes stress and tension for everyone.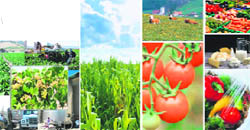 Seeds of success
Agri-business denotes the collective business activities that are performed from farm to fork. It covers the supply of agricultural inputs, the production and transformation of agricultural products and their distribution to final consumers. Agri-business is one of the main generators of employment and income worldwide.
Agri-business management involves conducting successful business in the food and
agriculture related sectors

Graphic gains
From the packaging of our daily household stuff to fancy product and company brochures to the larger than life billboards and posters that we see are all the handiwork of a brilliant and creative graphic designer.
Career Hotline
Pervin Malhotra


The writer is a noted career expert and director, Career Guidance India (CARING). Please send in your queries with your full name, complete address and academic qualifications to: The Editor, Jobs and Careers, The Tribune, Sector 29, Chandigarh-160030, or at careers @tribunemail.com


Career Cature
Sandeep Joshi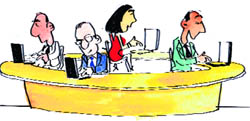 Are you sure that such workshops are helpful in improving communication skills and interaction among senior staff members?
Best univs for computer science
AkzoNobel to hire 2,000 in India
Dutch paint and coatings firm AkzoNobel will double its headcount in India to 4,000 in line with its growth strategy to quadruple sales to one billion euro in the country by 2015.
Free coaching
Haryana Government will now provide free coaching to SC, BC candidates appearing for competitive examination for banking clerical cadre posts.
Satisfy yourself, the boss will follow
There is no way through which you can know what is going on in your boss' head. The best way to satisfy him is to give the task at hand your 100 per cent and work for your satisfaction.