COLUMNS



THIS ABOVE ALL

TELEPROMPT

GOOD MOTORING

LIFE'S LESSONS

LEXICON

NETWATCH

FOR CHILDREN



CROSSWORD

RHYME TIME
Earlier Feature


TELEVISTA


AUDIO SCAN

Bond with the BEST
There is no fun better and more unadulterated than men being all by themselves. They view friendships with other men as more fulfilling and bond best with each other. Does that mean men and women interact and connect at only one level, at best, the romantic and, at worst, the sexual? Nonika Singh finds out
"Between men and women there is no friendship possible. There is passion, enmity, worship, love, but no friendship." ó Oscar Wilde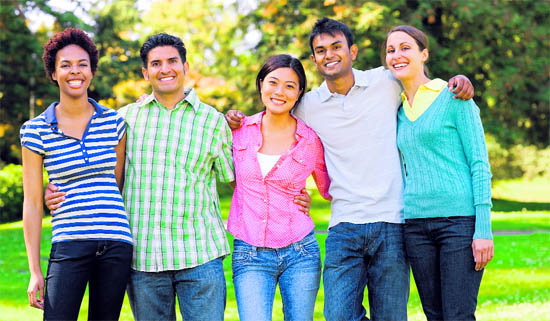 Sexuality may stand in the way of friendship between members of the opposite gender but itís not always the case
Just friends, who men and women? Are you kidding? Men and women, the two genders ó are they polarised extremes or are they made for each other? From warring planets as Johny Gray, author of Men are from Mars and Women are from Venus, would have us believe or inhabiting a common planet, Earth, as his detractors suggest. Either way, they meet on many platforms and in many relationships. But one ground that continues to elude them is friendship. For proof, walk into any party and you see men huddled in one corner, and women in another. An odd man that walks up and talks to a woman is either trying to be polite or flirting with her.
Netting deals
The onslaught of daily discount websites poses a grave threat to your weak willpower, writes Divyanshu Dutta Roy
In the last two months, I have gone from a normal young guy to the male equivalent of Rebecca Bloomwood from Confessions of a Shopaholic. Why? Because suddenly I have discovered the Dubai Airport of online shopping. Even in India, daily deals and group shopping websites are not exactly just off the boat. They have been here, offering discounts on things (with an annoying bias towards spa, beautification and grooming packages) and hoping to grow up to be as big as Groupon for some time now.
Match clothes with built
Your couture is a reflection of your personality, says Shekher Phadnis
All of us men are not of the same physique, and it is important to bear in mind this factor when dressing up. Let us consider the various varieties. Short and stocky. If you are of this built, remember that dark colours are best for you. You can best experiment with monochromatic colours as they look good on you. But contrasting colours are a no no.