The return of Andha Yug
Fifty years is too short a period to deconstruct the timelessness of the anti-war theme of Andha Yug, the celebrated Hindi play. In its last spectacular staging at the Feroz Shah Kotla ruins in the Capital, it threw up some fresh questions — thereby opening more facets of its ever-lasting contemporariness
Vandana Shukla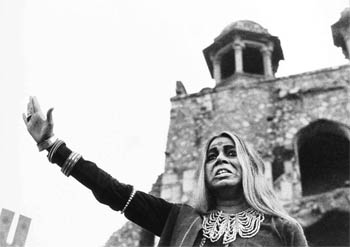 In one of the richas of Rigveda, written 5000 years back, the poet exhorts the rain and wind god as he witnesses the armies assembled with their different coloured flags — making the earth tremble with fear. The concerns of humanity have not changed much despite the long march of time, or with altered national boundaries.
M. K. Raina directed this play for the NSD Repertory Company in 1977, and later staged it at (R) Purana Quila in 1986. Photo courtesy: NSD Archives

Equestrian miniatures
Horses and their riders have been drawn by master artists in a number of ways to express their own concepts as well as to capture the imagination of their patrons, writes V. P. S. Rao
In the world of art, miniature paintings occupy an eminent place. In the field of miniature paintings, portraits are prominent. Among these, equestrian portraits attract more attention.
Champ chimps
A study has found that like human beings, chimpanzees, too, can understand language
If you believe speech perception is a uniquely human trait, think again —chimpanzees may also have the ability to understand language, says a new study.The new research with a 25-year-old chimp named Panzee showed that the "well-educated" animal can understand more than 130 English words and can even recognise words in sine-wave form, a type of synthetic speech that reduces language to three whistle-like tones.
Hills on a high
Nainital recently celebrated its 170 years of existence. People from all walks of life attended a small ceremony that included prayers led by priests from various religions, reports Rajeev Khanna
A prominent jewel of the British Empire, Nainital, the town of lakes, which finds a place in the list of top global tourist destinations, recently celebrated its 170 years of existence. People from all walks of life turned up in large numbers to attend a small ceremony that included prayers led by priests from various religions and to savour a large number of cakes sent by different establishments and social organisations across the town. Blankets were distributed amongst the poor to mark the occasion.
Vanishing art
Firkal is a martial dance performed by the Bhumij tribes of Jharkhand. But due to lack of official patronage, it has been pushed to the brink of extinction, reports Shekher Phadnis
Firkal is an unusual name for a dance form. Most scholars of Indian dances and social anthropologists have not heard of it, far less seen it being performed. No mention has ever been made of the dance in ancient treatises, history books, travellers' tales or accounts of archaeological finds.
A little Tibet in South
Bylakuppe, near Bangalore, is a fascinating Tibetan settlement, complete with a beautiful monastery, writes Tanushree Podder
Usually Dharamsala is known as the homeground of the Tibetan culture. But there is another equally fascinating Tibetan settlement called Bylakuppe in Karnataka near Bangalore. On way to Coorg, it is the second largest Tibetan settlement in India.
Curry-flavoured Parmesan
Sikh workers rescue Italy's famous cheese industry under threat of extinction
Amaster in the art of making Parmesan cheese, Manjit Singh is part of a large community of Sikhs in northern Italy, who are shoring up an industry under threat of extinction. Since moving from India seven years ago, the former taxi driver has become the main cheesemaker in a small family-run factory that produces thousands of rounds of the world-famous cheese.
Inking insanity
Girls Aloud star Cheryl Cole wants to get her back covered in tattoos but she isn't brave enough to go ahead with the massive design yet. The 28-year-old singer already has seven etchings on her body but is keen to have more as she loves them so much, although she needs to build up the courage to have a big one inked onto her skin, reported In Style magazine.
Minority report
Sikhs, Christians, Anglo-Indians and other minorities are no longer cameo performers but are main characters, who perform within their ethnic backdrop, writes Shoma A. Chatterji
Remember Mrs. D'sa, the very talkative but soft-hearted landlady in Hrishikesh Mukherjee's Anari (1959). The film is a unique example of a beautiful relationship between Raj Kumar (Raj Kapoor) the hero and his landlady, who he nurses and looks after in her dying days.
Prateik to flaunt six-pack abs
Nanda Das
After Aamir, Shah Rukh Khan and Salman Khan, Dhobi Ghat actor Prateik will be showing off his six-pack abs in his next film Issaq. Prateik, 24, has been working hard for the film, which is an adaptation of Shakespeare's classic Romeo and Juliet. The actor is playing a Benarasi boy.