The return of Andha Yug

Fifty years is too short a period to deconstruct the timelessness of the anti-war theme of Andha Yug, the celebrated Hindi play. In its last spectacular staging at the Feroz Shah Kotla ruins in the Capital, it threw up some fresh questions — thereby opening more facets of its ever-lasting contemporariness
Vandana Shukla
In one of the richas of Rigveda, written 5000 years back, the poet exhorts the rain and wind god as he witnesses the armies assembled with their different coloured flags — making the earth tremble with fear. The concerns of humanity have not changed much despite the long march of time, or with altered national boundaries. Post-World War II, writers, philosophers and artists went prolific, seeking answers to the worst question that humanity had to grapple with — its insatiable lust for self- annihilation.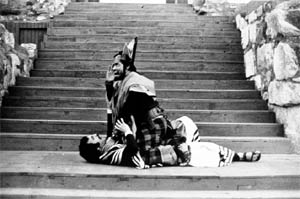 Under Ebrahim Alkazi's direction, the play was staged at Feroz Shah Kotla (1963), Talkatora (1967), Purana Quila (1973-74) and several other places
Yet, nowhere in world literature is God, the best creation of man, made to die. That, too, under the curse of a mortal woman — a victim of the war. Nowhere else on the world stage, a prayer is recited to narrate the death of God (do alankaran karun, prabhu ke maran ka chitran karun). And here, God accepts the curse, but in his death he reminds humanity — "So far, I took it upon myself the good and the bad results of your deeds, but henceforth humanity will be responsible for its actions — collectively." This happens in Andha Yug, set in the post-war world, where each one is made to carry the responsibility of being an active participant — even those who claim to be non-partisan, objective observers. No one is spared the luxury of being free of guilt, because silence is a tacit support.
At best, different art forms have dealt with the horrors of war — at an individual or societal level. What sets apart Andha Yug, a play written in verse by Dr Dharmveer Bharti (1926-1097) for Akashvani in 1953, is the fact that it deals with several shades of human folly and culminates in the question of survival of the entire humanity — encompassing this universe — in a post-nuclear war kind of scenario. Set in the evening of the 18th day of Mahabharata, when both sides — victors Pandavas and the vanquished Kauravas — are fraught with self-doubt, about the relevance of war and are frustrated and shocked with its devastating powers. They realise the consequences of the war travelled beyond their control, when Ashwatthama refused to listen to any logic and released the Brahmastra, which would destroy all — irrespective of which side they stood for; the right or the wrong. It would dry up all vegetables and rivers and destroy animals, humans and mountains for ages to come. It is then that they begin to introspect — if the war was inevitable, if both sides erred, if everyone had a role in inviting the volcanic eruption of violence.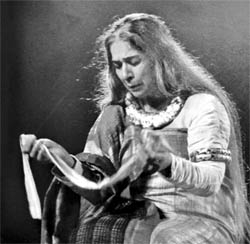 Uttara Baokar again played Gandhari in the recent staging of Andha Yug in the Capital
If Dhritrashtra, the blind king of the Kauravas, had the luxury of hiding behind his physical blindness for his wrong judgments, the excuse is questioned by Vidur, whereas Sanjay, the objective chronicler, wonders, after a close brush with death and violence, if what he chronicled could actually be objective!
The script is so condense and layered that it opens up newer potential every time a director interprets it, and, almost every thespian whose name matters in Indian theatre has attempted to unravel it differently, not only once but several times — under different political circumstances. No wonder, Girish Karnad, noted playwright, counts it among one of the greatest plays written in the world in the last century, it is considered as "a play that heralded a new era in Indian theatre."
Strangely, the great spectacle culled out of the script by stalwarts like Ebrahim Alkazi, Ram Gopal Bajaj, M. K. Raina, Mohan Maharishi, Ratan Thiyam and others was, in fact, written for radio. The beauty of the play was first discovered by Pt Satyadev Dubey, who worked on the script for 10 long years and staged it in Mumbai and then at Kolkata for the Hindi Natya Samaroh. It was there that Alkazi and his students saw the play and decided to stage it in Delhi.
On October 23 this year, when the play was staged at the Feroz Shah Kotla ruins under Bhanu Bharti's direction, Alkazi, the founder director of NSD (National School of Drama) was present. Alkazi reminded his veteran students, that in 1963, when he staged it at the same venue, he did not know history was being created. But he did know that Indian theatre need not look westward, it had a rich pool to draw inspiration from. And, Andha Yug could never fail to inspire. In his interpretation, Bhanu Bharti has taken the play beyond it's much talked about anti-war theme, as he explores factors — human as well as political, that lead to war.
"The script will always remain contemporary because certain blind judgments will always be made and they will lead to catastrophes," says Mohan Maharishi, who produced the play for a studio theatre, having played a role in the grand spectacle of the Feroz Shah Kotla production in 1963 and 2011. "I am perhaps the only survivor who acted in Alkazi's production in 1963. When I did it for a studio theatre, I concentrated more on a few speeches and the characters so that the anti-war theme could be internalised, and was not lost in the spectacle." Maharishi also staged the play in Mauritius.
For Ram Gopal Bajaj, Andha Yug encompasses all that theatre has the capacity to offer, "Structurally, it is close to Greek and Sanskrit theatre, but in concept it encompasses all — from Sartre to Nietzsche, each director can take his or her own take. It concerns a much wider spectrum of humanity than the entire works of Shakespeare put together." No wonder, he has staged it in Hindi, Assamese, Telugu and even with the students of Mayo College, Ajmer.
"I have seen theatre of the world, but no script touches this range and depth of human concern as does Andha Yug," he adds.
Role call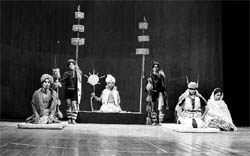 Ratan Thiyam's production was first produced in 1984, and later staged it at Tonga in Japan on August 5, 1994
When Dharmveer Bharti wrote this deeply philosophical play, he was barely 28, he is said to have used the allegory of Mahabharata to show the folly of Partition in 1947. The script is in verse, carried on its own rhythm. Yet, stalwarts like Vanraj Bhatia, B V Karanth, Dr Bhikshu Bhaskar, Kamal Tewari, Ravi Nagar composed its music, in 2010 Girish Tiwari, and Bijon Mondal gave it a contemporary twist, by accompanying it with fusion band playing.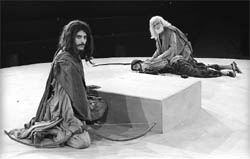 Ram Gopal Bajaj has staged the play in Hindi, Assamese and Telugu
Many stars came out of Andha Yug; Rajesh Khanna played the gunga sipahi and Naseeruddin Shah did Ashwatthama's role in Satyadev Dubey's production.
It has been translated in several languages, and in English by three different people — Alok Bhalla, Tripurari Sharma and Paul Jacob. M. K. Raina staged the play in Berlin and for the Festival of India in the USSR in 1987,`A0Ratan Thiyam`A0staged it in an open-air at Tonga, Japan, on August 5, 1994, a day before the 49th anniversary of`A0the atomic bombing of Hiroshima.