M A I N N E W S
Pakistan raising green wall along border to blind BSF
Jupinderjit Singh/TNS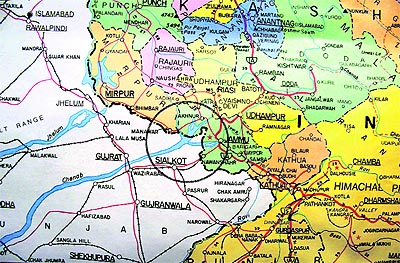 Chicken Neck (Kanachak), November 22
While continuing making concrete bunkers along the international border in the Jammu area, Pakistan is erecting a wall of trees to block the view of the BSF. The line of sight has reduced from 2 km to half-a-km or less, where the saplings have grown to considerable height.
With foggy winter approaching fast, the BSF is worried that the blocked sight would aid infiltration in the region. They have formally (in writing) objected to the Pak Rangers, who replied they were just planting saplings for the sake of environment.
Some saplings planted within last year have grown to considerable height in this highly sensitive and strategic border area near Akhnoor. Encouraged by it, new saplings have now been planted on almost all along the border from Kathua to Akhnoor. The new saplings have come especially in the Samba-RS Pura belt, from where infiltration attempts are often made.
Despite four wars and the continuous proxy war against India, this move to use a natural wall of trees to block movement across the border has been observed for the first time.
The Tribune team witnessed the obstruction in the line of sight of the BSF during the day as well as night hours on this border. BSF sources said they pruned some of the trees, whose branches extended to Indian side, but they can't uproot trees as they were away from Zero Line.
Most of the trees or the saplings are of Sheesham species but at some places the fast growing 'Arandi' (Castor) tree were also planted. This tree spreads in a large area fast as it strews seeds all around it.
The BSF is relying heavily on night vision equipment using the thermal imaging or the satellite imaging to keep a watch on the activity in the counterpart area. "It is an issue of grave concern for us. Earlier, it was just the seasonal wild grass 'sarkanda' in which militants used to hide before attempting to enter India. The trees would be there for all time," a BSF official said.
'Chicken Neck' vs 'Dagger'?
India surrounds Pakistan from three sides at the 'Chicken Neck' area, which Pakistan terms as 'Dagger'. Pakistan uses the name to suggest that its land extending into the Indian territory is like a dagger in India's heart. On the other hand, India calls it the chicken's neck suggesting that it is a weak neck (of Pakistan) that can be twisted anytime.