After World Cup, kabaddi gets shot in the arm
Deepankar Sharda
Tribune News Service
Chandigarh, November 23
The recently held World Cup Kabaddi Tournament in Punjab appears to have motivated many towards the game as a huge response was witnessed in the first edition of the Chandigarh Kabaddi tournament which concluded at Sports Complex, Sector 42, here, today.
The sport became a hit among players of the tricity periphery area, as over 400 players participated in the tournament out of which about 200 players reportedly belonged to Maloya, Mani Majra and Indra Colony.
The huge participation has also caught the fancy of the authorities as officials of the sports department have moved the file in order to add this sport under the gradation system, which will directly benefit the players to get admissions in professional colleges and schools under the sports quota.
"The officials of the sports department have already submitted the file to the higher authorities for the above mentioned purpose. The department has also recommended kho-kho and some action will be taken soon" said KS Bharti, district sports organiser.
On other hand, the players were seen enjoying the three-day festival at the complex. Besides schools and colleges, the clubs also participated in different categories.
"The competition is organised to uplift and boost local players. Many players, including girls, have already made it to the international level. The players mostly come from the periphery areas, as no investment is involved in the game. Now when the game will be included under the grading system it will surely attract more players" said DS Kohli, Kabaddi coach, at the coaching centre in Sector 42.

"People in Maloya play kabaddi everyday and I have grown up seeing them do so. My brother is also a national player of kabbadi. I have recently attended the sub-junior India camp in Gujarat and it has given me and my family an identity." .— Kiranjeet Kaur, player, Sports Complex, Sector 42.

"Earlier, the teacher of our school did not show any interest in the kabaddi team but we caught attention after winning the gold medal in the recently held inter-school tournament. The periphery area is full of talent and the tournaments will allow them to show their potential at the right platform" — Rajwinder Kaur player, Government High School, Maloya.

"I have participated in all the events, including the senior and junior category, because I love to play the game. It is the only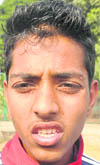 sport where you need to have a perfect mental and physical balance. In our area we play this game everyday"
— Samsher Singh, national level player.
"The game has given me a lot and the experience at the junior India camp in Gujarat has improved my game. We need exposure of this level which will help us to polish our skills in our home town only" — Ankush Rana, student, Government Senior Secondary School, Sector 37.