COLUMNS



THIS ABOVE ALL

TELEPROMPT

GOOD MOTORING

LIFE'S LESSONS

LEXICON

NETWATCH

FOR CHILDREN



CROSSWORD

RHYME TIME
Earlier Feature


TELEVISTA


AUDIO SCAN
Singhs are kings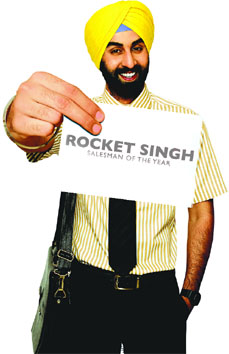 Bollywood often made caricatures out of Sikh characters, invariably portraying them as loud people with little insight and depth. However, winds of change are blowing with the Sikhs being treated with respect and sensitivity on screen. The list of movies showing them as having real and credible personas has been growing. Nonika Singh checks out
As Puneet Issar is busy putting finishing touches to his directorial venture I Am Singh, he has a two-point agenda. First and foremost is to tell the world that Sikhs are a distinct race, not to be confused with any other race, as had happened post-9/11. Secondly, the actor, who himself has played some stellar Sikh characters as in Border, wants to undo the damage, which he feels many Bollywood directors have done to the glory of Sikhs. He fumes, "Sikhs are such a unique race.

Filmmakers like Yash Chopra, whose films invariably had a Punjabi milieu, had prepared the ground for movies such as Rocket Singh — Salesman of the Year

Nandana's reality check
Actor, activist and teacher, Nandana Sen has juggled different roles very well. Debayani Bose chats up the multi-faceted personality, who recently was a member of the jury in the public hearing on child trafficking and Right to Education
Teen zone
Research has found that boys, particularly teenagers, are being pressurised into sexting to fit in
A research has shown that teenage boys are bullied into sending and looking at explicit images on their cell phones, and face taunts, exclusion "if they're not into" sharing pornography.
Defy age, look young
You need to know how to embrace your age and look youthful,
says Banalata Bipani
Just how do you beat off age in your wardrobe? You may be nearing your golden years, but you sure don't want to look it! Maybe you need to know a little bit more about how to embrace your age or how to dress younger. Let's take it from the top.