Glamour on the greens
Ruma Kat catches up with some gorgeous golfers scorching the greens with their style statements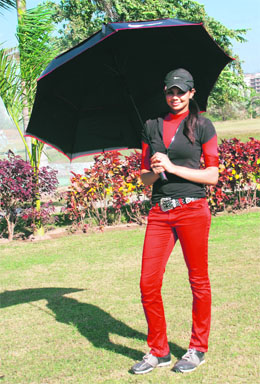 With nine piercings on her ears, streaked hair, and a Tiger Woods' umbrella, model-cum-golfer Sharmila Nicollet carries as much chutzpah on the course as on the catwalk. Photos: Nitin Mittal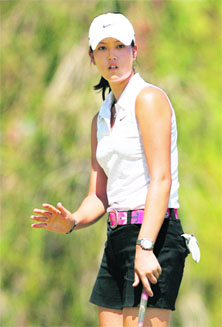 The trend of being an eye-catcher on the greens was started by Michelle Wie of the US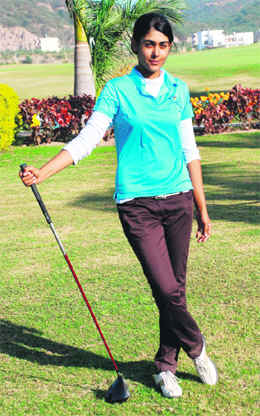 Winner of the eighth leg of the tournament, Nalini Singh Siwach prefers to keep her look casual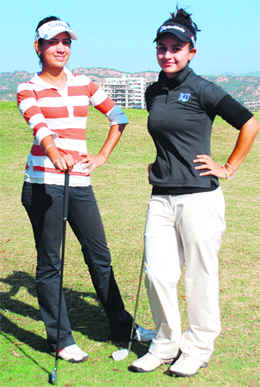 To keep herself in shape, Meghna (right) works out five days a week. Ankita Tiwana (left) of Delhi likes to step out for tournaments in trendy attire and accessories

If you love watching it, it's sport. If you love playing it, it's a game. But if you are working hard on it, it's gotta be golf. With its subtle nuances of swing and other intricate manoeuvres golf is not an easy game to master. But you sure can look glamorous on the course. Especially if you are on the ladies circuit where fashion and looking glamorous on the fairways seems to be par for the course.
This trend of looking eye-catching on the greens was started by Michelle Wi of the USA and has been carried forward by India's very own Sharmila Nicollet, who not only swings the club with gusto but also has the ravishing looks to stop people in their tracks.
These fashion statements by female golfers were clearly visible at last week's Hero Professional Women's Tour that was played out in Chandigarh and Panchkula. Women golfers from across the country were present here to not only win the two legs (pun unintended) of the season but also flaunt the new trends of the game.
Even though she is a young professional golfer and a model, yet Sharmila Nicollet puts her status on Google+ as:
"The only yoga stretch I've perfected is the yawn".
But looking at her, no one can actually believe this. She has maintained a perfect figure and has been gifted with features and a physique that make her look more a professional model than a pro golfer. Twentysomething Bangalore-born Sharmila began to play golf at the age of 11. She is today believed to be one of the most promising young golfers of the country.
The fact that Sharmila's father is French and mother Indian might have helped more than just a wee bit. It's perhaps these mixed genes that make her stand out amongst the crowd. Sharmila has been the winner of the Hero Professional Women's Tour twice last year, and is the only multiple winner of the tour this season. She was the number one professional golfer on the merit list of 2009-2010 on the WGAI professional tour and has also represented India at the Asian Games in Doha (2006). Today, she is one of the most well-known Indian women golfers in the world. This is not just because of her skills and talent in the game but also because she is among the most presentable golfers on the course.
If Sharmila's outfit is in colour red, then it cannot be that she hasn't applied red nail paint on her long nails. With nine piercings on her ears, streaked hair, and a Tiger Woods' umbrella, she walks straight on the fairway with elegance and swings the club with a perfect move of her waist and hips.
Besides golf, Sharmila likes photography and fashion. She is also fond of cars, and dogs become her Achilles' heel. "When I am in my hometown, I am surrounded by my six dogs, and I love to play with them the whole day," quips Sharmila. She is also fond of mud-pie as a treat, even though she works out immensely six days a week.
"I guess fashion is very important even if you are on a golf course. It makes you feel good and look good. I like to wear diamond rings and make all kind of colour contrast with my golf kit every time I play. I guess that makes me feel good about myself and I can play even better when I am dressed nicely."
The young golfer from Bangalore has many a times been linked with cricketer Virat Kohli, who is also the captain of Royal Challengers' Bangalore team in IPL. They exchange tweets and Kohli congratulates Sharmila after her every win.
Meghna Bal is a young golfer from Delhi who stood fourth in the eighth leg held in Panchkula. She was forced to play by her father when she was 13 but slowly became real fond of the game. Today, she is one of the senior women golfers in India.
Meghna's natural grey eyes are the best fashion quote for her that makes her personality look different altogether. Also, her smart bun tied during her play marks her unusual style statement. To keep herself in shape, Meghna works out five days a week but says she cannot resist chocolates, which she really should.
"I never used to think about fashion on course when I first started playing golf. But after visiting so many countries and playing around the world, I now feel it is really essential for you to look good. It feels nice if I play well and I look good."
Ankita Tiwana (20) from Delhi believes that fashion and golf go hand in hand. "It gives you a feel of playing a royal game. I always like to step out for our tournaments in trendy clothes with contrasting accessories."
On the other hand, the winner of the 8th leg of the tournament held in Panchkula, Nalini Singh Siwach, doesn't bother much about her looks when focusing on her game. "I started playing when I was 15. Initially, my father convinced me to play but later I developed a natural liking for golf. But I've never been interested in making a style statement on the course. I just like to play the way I am."
Golf can be transformed into a spectator sport with these ladies flaunting not just their game but also attitude and attire. People might or might not come to watch the putts and drives, but they can surely be tempted to watch these glamorous girls showing off another side of their sport — the game of looking good on the course.