Star track
Scripting a Dirty tale
Tusshar Kapoor is one more person who is making news for The Dirty Picture as he will be romancing Vidya Balan. Here is a small chat with the actor…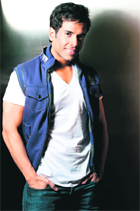 Fan club: Tusshar Kapoor
Interesting experience
When the film was getting scripted I was nowhere there in the film but later it was Milan who asked Ekta whether I could do the role or not. Then when I heard the script I found it interesting. And working with Milan was a great experience.
Playing scriptwriter
I am playing the role of a scriptwriter Ramakant who is a shy and slow guy. He is a colourful character in himself, he is romantic at heart but very shy. He loves Silk, who is very bold. My character goes through an interesting graph.
Knowing Silk
It seems everyone is thinking it's the biopic of Silk Smitha but let me tell you it's just an inspiration from her life. The film revolves around a porn star but there is nothing like nudity or anything vulgar in the film. So we did not need to do any research and the characters around are totally new so we had to play what Milan had in mind.
Getting intimate
It's a role of a lifetime for her. After watching the film, I have become a fan of Vidya as she is a great actress. People are expecting her to be bold and getting dirty in the film but let me tell you there is nothing like that. It's more of an iconic role. Performances by every actor will be memorable. Yes, there are few intimate scenes in the film but I enjoyed working with Vidya as she is a very down to earth person who concentrates on her work. When we were doing our intimate scenes we thought we should finish it in the first take only so that we don't need to repeat it (laughs). It feels weird because so many people are looking at you. This was a demand of the script but there is nothing vulgar in the film.
Projects in the pipeline
I have Char Din Ki Chandni directed by Samir Karnik where I am playing the solo lead. It's a comedy film. Then I am also shooting for Kyaa Super Kool Hai Hum. Ritesh and I get along really well. But the story in the film is totally new as I play a model who wants to become an actor. Then there is Bhaiya Superhit directed by Neeraj Pathak. While I play a Bengali guy who is a writer of a mad comedy, Sunny Deol is the don of a small town. —HRM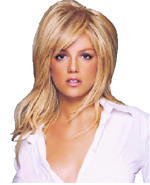 inspiring company: Britney Spears
Pop diva Britney Spears says she is inspired by the younger generation of artists such as Jessie J and Adele.
The Toxic singer made a comeback earlier this year with her Femme Fatale album, and is glad to have competition from new young artists, who push her to make her songs and live shows better.
"It's really cool because there are so many new, up-and-coming artists to look at and be inspired by. For me, I think it's great to have a little competition because I feel it inspires and makes me want to do better. There are so many soulful singers, even the ones coming from London, like Adele and Jessie J, who are just amazing. It feels like a really cool time to be making music now," Spears said.
The 29-year-old, who rose to fame in 1998 aged 16 with her track Baby One More Time, also said she has grown in her career and now feels comfortable with her position in the music business.
"I think as the years have gone by, and as I've evolved as an artist, I've put even more into my career, and after that amount of time you start to know exactly what you want. You feel a little bit more in your skin, in terms of who you are. And that just feels really nice." — PTI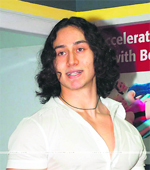 Bollywood calling: Tiger Shroff
Did Aamir Khan meet Jackie Shroff in Mahabaleshwar hill resort last week to finalise plans to launch Jackie's son Tiger? Jackie didn't confirm it, but said that to be launched by Aamir would be a big privilege for his son.
"Aamir and I have known each another for years. We're fond of one another. I was shooting for Ananth Mahadevan's Life's Good in Mahabaleshwar. Aamir has a home there. He dropped in to see me twice. As far as launching Tiger goes, I'd be really happy if it happens," said Jackie.'
Even Subhash Ghai has shown a keen interest in the boy. In fact, Ghai's interest goes back to Tiger's childhood when he had made a pledge he would launch his friend and discovery Jackie's son whenever the boy was ready to take the plunge. But now there is a very interesting twist in Tiger's tale, with Bollywood's resident maverick-producer Aamir showing a keen interest in launching Tiger.
When asked about his son, Jackie said: "Tiger has turned out...decent. Hasn't he? Yes, he has met Aamir Khan. To be launched by Aamir would be a big privilege. Aamir is very fine producer, actor and human being. My boy would be in great hands. However, Subhashji is also very keen. Do you know he had done Ayesha and mine kanyaadan? To unka Tiger pe haq banta hai. Let's see..." After playing bit roles in Dev Anand's Swami Dada, Jackie got his big break with Subhash Ghai's Hero.
Reminiscing about his own launch, the 51-year-old chuckles, "Tiger has it all laid out in front of him. When I had come into the industry, I had no one to guide me. If Subhashji had not given me a break, I wonder what would've happened to me!" — IANS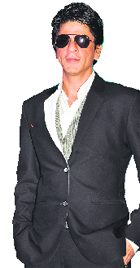 King of humour: Shah Rukh Khan
Bollywood superstar Shah Rukh Khan turned an otherwise drab official function into a rib-tickling affair by offering to strip and reveal his bermudas on stage at the inauguration of the 42nd International Film Festival of India (IFFI) recently.
Shah Rukh, the chief guest at the inauguration of the 11-day festival, was at his hilarious best and had union Minister for Information and Broadcasting Ambika Soni and Goa Chief Minister Digambar Kamat in splits by threatening to strip down to his beach wear, which he claimed he was wearing beneath his formal slacks.
"I wanted to wear my bermudas, but then chose to wear my suit. But I am still wearing bermudas beneath. Do you want me to take my pants off," he asked, leaving the 1,000 strong audience laughing their guts out.
"The younger girls (referring to compere Tisca Chopra and actress Rituparna Sengupta) and Ambika ji are saying 'take it off, take it off'!" Khan chided in banter, after being at the receiving end of Soni's playful jibe at him in her introductory speech.
Soni had earlier said that it was "extremely easy" to get Shah Rukh Khan to attend the festival and that she did not have to approach any "powerful" friends and people to coax the Bollywood badshah to attend the mega I&B event.
"All I told him was that we need to him to come to the festival to raise the profile of the IFFI (International Film Festival of India). And he said yes," Soni said, even as Shah Rukh had the organisers waiting for nearly 40 minutes before he arrived at the venue.
The festival will screen more than 100 movies from 65 countries and will have special packages like 'Master Classes' by renowned film personalities like Milcho Manchevski, Hugh Welchman, Laurence Kardish and a first of its kind package of 3D and animation movies.
Actress Madhuri Dixit and Freida Pinto are also expected to attend the festival. — IANS
The punch girl
Kristen Stewart says she accidentally punched co-star Chris Hemsworth during a fight scene for 'Snow White and the Huntsman'. The 21-year-old actress, who is playing the titular character and is currently shooting the fantasy movie, left the Hollywood hunk with a black eye and a big lump on his nose after a fight scene went wrong.
"Girls, if you've ever wondered if it works, it works! I was supposed to miss him but I basically knocked him right out of his close-up," she said.
The Twilight Saga star, who has been pictured with scraped and bruised knuckles this week, also said that she won the sought after part after a "really intense, four-hour" meeting with director Catherine Hardwick. — PTI
On a hiatus following his illness, Tamil superstar Rajinikanth will now act in India's first 3D film directed by his younger daughter, Soundarya. Work on his under-production Rana, on whose sets he fell ill early this year, has been postponed in favour of the 3D film Kochadaiyaan.
According to a release here, the film will be released in August, after which Rajinikanth will resume shooting for Rana.
This is the first time that a 3D film with "performance capturing technology" is being produced in India. — PTI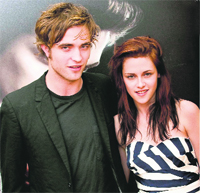 Reel to real: Robert Pattinson and Kristen Stewart
Twilight couple Robert Pattinson and Kristen Stewart are reportedly renting a luxurious apartment in west London together.The couple, who play on-screen lovers Edward Cullen and Bella Swan in the Twilight franchise, are renting a flat to use it as a base when they are in Europe.
The spacious flat has an open plan kitchen, modern decor throughout, a master bedroom, comfy arm chairs and a stylish dressing table. It also has a second bedroom, an open plan living area and a large rooftop terrace which offers fantastic views over the city.
London-born Pattinson, 25, likes to spend as much time in his home country as he can, and Stewart, 21, has been based in the UK recently while filming Snow White and The Huntsman.
Pattinson and Stewart were also spotted out on a date, watching folk singer Laura Marling at the exclusive Soho House members' club.
"It took a while for staff to realise who they were. Once in, they kept it low-key by standing at the back sipping pints. You'd never have guessed they were film stars," a source said. — PTI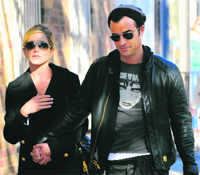 Fun time: Jennifer Aniston & Justin Theroux
Jennifer Aniston and her partner Justin Theroux have splashed 60,000 dollars on a luxury hotel suite for three months. The 42-year-old actress and her beau have been holed up in the famous Sunset Towel Hotel in a plush room that has been serving as their love nest in recent weeks.
The Friends star has been without a pad in Los Angeles since she sold her Beverly Hills mansion for 38 million dollars in July 2011.
Aniston still owns the first home she bought in the city but she rents it out to celebrity friends now.
Prior to moving into the hotel on Sunset Strip, the pair had reportedly rented a house nearby but moved out after being pestered.
According to reports, the couple celebrated their six-month anniversary by the hotel pool. Staff said that with room service and generous tips Aniston's final tab could easily reach 100,000 dollars — ANI
Bollywood actress Kareena Kapoor has emerged as the sexiest Asian woman in the world, according to a survey.
Eastern Eye, a weekly, conducted a survey through social networking sites like twitter and Kareena came out on top, edging out last year's winner Katrina Kaif.
Kareena, who recently gave hits like Bodyguard and Ra.One, won by one per cent of votes, the narrowest ever margin and beat off tough competition from some of the most stunning women from around the world.
Katrina, who had won the title for the last three years by a large margin, slipped into second place. — PTI