A fight for survival
Sunshine: My Encounter with Cancer
By Minakshi Chaudhry.
Rupa.
Pages 200. Rs 195.

Reviewed by Puneetinder Kaur Sidhu

OnE has known Minakshi Chaudhry as a passionate trekker and prolific travel writer, authoring book about the hitherto unexplored regions of Himachal Pradesh. She followed that up by becoming a collector of stories (in a manner of speaking), churning out many an anthology about Shimla, its lovers and its resident spooks, all in a quick succession. The latest from her stable, Sunshine, however, is a complete departure from the topics that have usually pre-occupied her. This, her tenth book, is an emotive and deeply personal outpouring of her experience with breast cancer. She candidly shares how her initial disbelief and shock at the revelation gave way to moments of self-doubt, pity and fear. How the physical and mental pain sprouted suicidal thoughts; how her supportive and loving family and friends helped her turnaround; and how her own fortitude eventually triumphed.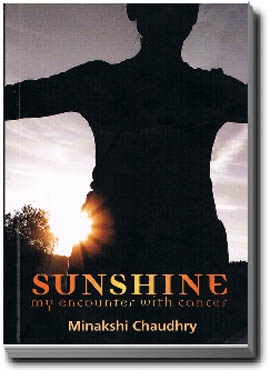 Sunshine is an account of her struggle to overcome a near-fatal malady, and she manages to capture the intensity of her journey to recovery through numerous entries in her diary and other notings. The consequent narrative elaborates her fight to conquer a dreaded disease, her extensive therapies, and the return to a life of normalcy.
"I crawled back from an abyss into a brighter world filled with sunshine, with the only objective to make thousands of cancer-affected women aware of a hope at the end of the protracted and cumbersome medical treatment and emotional distress," is how the 41-year-old eloquently sums it up. She further encourages those similarly affected, "What would your first reaction be if your doctor hesitatingly tells you that you have cancer and also soberly tries to boost your morale? I am sure the reaction will really be disastrous for anyone. But, this is also a moment to build-up courage and accept the challenge rather than hiding in the darkness or considering your fate sealed."
The slim volume has been neatly sectioned according to the numerous phases of her "encounter with cancer". The first part, How Could it Happen to Me?, gives a complete account from the diagnosis of the disease till the completion of treatment. Vomiting My Guts Out but not Dying elaborates her experience during chemotherapy in the following section. In Bald but Bowling, Chaudhry narrates her experience of hair loss, acceptance and comfort with the change, her wig-fitting sessions and even allows herself flashes of vanity. Gradually, her musings become laced with gentle humour, willing you to smile along as they reveal her irrepressible spirit.
The section categorised as Family and Friends deals with the important roles theses social groups play in helping one to cope in the face off with adversity. Life goes on expresses how one can overcome difficult times and situations. It stresses on the fact that pain of any kind is but transitory and one must not lose hope. A separate section at the end of the book, Glimpses from my Diary, does just that, providing insights into her state of mind as she goes through her daily existence after detection, during treatment and post-therapy.
A story of determination and courage, Sunshine is a book for everyone: patients and doctors, friends and families, the young and the old. Ultimately, it is a story of hope, of brightness and of cheer. "Today is a great day. The sun shines in my heart," the author signs off chirpily, suffusing you with the kind of warm glow experienced when the winter sun breaks through a passing cloud. A must-read book.