Tête-à-tête
From Naagin to nritya
Nonika Singh

A diva will always be a diva. Age may have touched yesteryear celluloid queen Vyjayanthimala Bali's skin but certainly not her spirit. So, at 75, she is still the queen of all that she surveys.
With unconcealed pride she goes down the memory lane recalling her sterling performances in movies like Naagin, Madhumati, and of course the blockbuster Sangam, the first techni-colour movie with two intervals. Then there was the Jewel Thief that earned her the sobriquet of Twinkle Toes.
But past is not all that the doe-eyed actress has to talk about. Her present devoted wholeheartedly to her real muse Bhartanatyam is as interesting and fulfilling as her successful innings in films. In fact, even in her heyday she kept the balance between the razzledazzle of filmdom with the spiritual face of Bharatnatyam.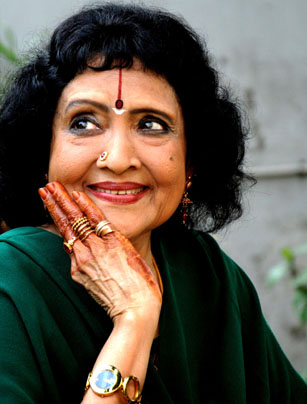 Vyjayanthimala Bali

She smiles and says, "While my dance in films had a classical touch, my stage performances have never ever been filmy." Today, the winds of change may be sweeping the Bharatnatyam style. But she, a disciple of doyen K P Kittappa Pillai, a direct descendant of the illustrious Tanjore Quartet, who standardised the technique of Bharatnatyam, has stood steadfast with feet firmly grounded in tradition. On tradition her belief is simple, "Tradition belongs to the past, connects the present with the past and can't change with time."
No wonder, globalisation for her is another word for confusion. She quips, "Why should we submit to western influences? We are blessed that we have such a rich past and history." So, while others are busy innovating she has gone back into time, dug into temple traditions of Bharatnatyam and presented it with renewed vigour.
Not that the modern themes are an anathema to her. She has worked on Tagore's works and on peace, too.
Dance chose her or she found it`85 they were meant for each other. And she also puts to rest the presumption that people come to see Vyjayanthimala, the actress and not the dancer. The world of art and connoisseurs, she is positive, knows her as a Bharatnatyam dancer. More so, the western audiences, she asserts, have no clue, "I was an actress once and they invite me only as a dancer."
In fact, while she has fond memories of her film career, she has never cared to look back. Thus, this "grand mom" in real life has never had any intention of playing one in films and has always said a firm no to character roles. Actually, the films of today, but for a few of Aamir Khan's films, anyway leave her cold. On the picturisation of dances in films she feels the less said the better. All she would say is, "If they are comfortable with what they are doing who am I to pass judgment?" On her own life, however, she has given a verdict of sorts and put her viewpoint across by way of an autobiography. The book is called Bonding in which she has cleared some misunderstandings and dismissed her 'affair" with Raj Kapoor as a publicity stunt.
Back in time there have been some missed chances, too. Roles such as in Guru Dutt's Mr and Mrs 55, Bimal Roy's Bandini and Gulzar's Aandhi eluded her. When approached for Aandhi, she herself developed cold feet at the thought of playing a part with uncanny resemblance to Indira Gandhi.
Interestingly, she has had no hesitation in rubbing shoulders with politicians in real life and has not only fought two Lok Sabha elections but also earned her way into the Rajya Sabha.
An actress, a parliamentarian, a golfer and a consummate dancer—as on screen so off it—she has played a wide variety of roles and got under the skin of each one of it with aplomb. With her cup full and brimming, she stands content in salutation and offers dance as her prayer.