In step with the times
S. D. Sharma

Kathak maestro Jayant Kastuar talks about his journey
as a performer and the contemporary scenario

Since time immemorial, the Indian classical dancing has been regarded as the supreme realm of art, as it embodies a harmonious blend of all forms like music, poetry, acting,dance, painting and now yoga as well," says Jayant Kastuar, acclaimed Kathak dancer of international eminence and at present secretary of the Sangeet Natak Akademi of India.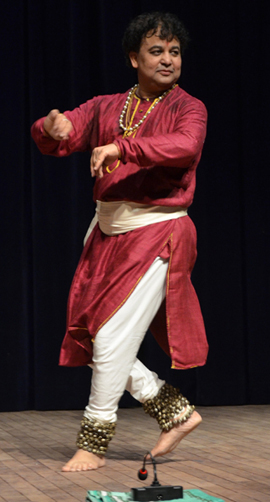 Jayant Kastuar

Honoured with titles like Nritya Chhdamani, Nritya Shiromani and others in India and abroad. Kastuar introduces himself as a learner of this dance form. A visionary, able arts administrator and, above all, an avid performer, he remained director of the Kathak Kendra before being chosen as the secretary of the Akademi in 1999.In the city recently on the invitation of the Punjab Sangeet Natak Akademi, Kastuar shared his passion for the performing arts. Excerpts from an interview:
With your brilliant academic record, how did kathak happen at that stage?
I come from an affluent zamindar family of Jharkhand. My training in Kathak started as a toddler, much before my formal education. By 1960, I was being hailed as a child 'dancing star' in eastern India and in 1967, I performed at a music conference before the recital of Ustad Bade Ghulam Ali Khan, who blessed me. I initially learnt from guru Banke Behari Acharya, Inder Kumar Patnaik and my pramukh guru Durga Lal with dedication.
Do you find the same level of dedication and humility in the young generation and the gurus of today or is there too much commercialisation?
Shahensheelta is a relative concept now, what to talk of disciples or artists, even the audience, too, cannot watch any long performance. The performers, too, design their presentations to suit the milieu, eventually at the cost of the art. As far as commercialisation goes, it is natural since any artist is a part of the society and whatever prevails in the lok samaj is bound to affect the kala samaj.
Do you feel that classical dance, especially kathak, is gaining popularity as compared to the better established Bharatnatyam and other genres ?
Oh, yes, in absolute terms there is wider awakening and tremendous appreciation since instructors after training from gurus `A0groom more aspirants. Kathak, much more vibrant and versatile but limited to the northern areas, is comparatively new while Bhartnatyam has got established through the Kalakshetra and Kerala Kalamandlam in India.
But why are dancing forms not flourishing abroad as compared to Indian classical music? The classical dances are not even featured prominently in films?
Indian music reached the world faster through the radio, spools and but technological advancement was of help to the visual arts much later which has its limitations. Even now, all finer nuances of dance can not be captured in video recordings. The Indian film industry seems to have developed its own dance genre called Bollywood dancing.
What is the role of the Sangeet Natak Akademi in supporting similar state akademis?
We would love to collaborate with state bodies for the promotion of all regional arts at the national and international level but unfortunately, the stringent financial position comes on the way.