Speaking of superpowers
AFTER a hiatus of two years, politician-writer Shashi Tharoor is back to writing a book. And this time, it's about India's place in the new balanced world.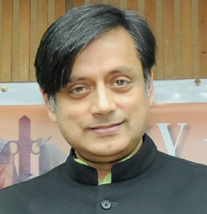 Shashi Tharoor

Addressing a discourse, 'The New Superpowers,' chaired by Anita Anand of BBC at the Alchemist Hay Festival in Kerala, Tharoor said the book would look at India's place in the world, not just in terms of foreign policy, but how India would function in the future.
"I have been writing the book in bits and pieces in the last one-and-a-half years. All my deadlines have slipped. It should be complete by my wife's birthday in summer next year," said the MP from Thiruvananthapuram.
"I believe that the 21st century is going to be a world without superpowers. It is going to be a balanced multi-polar world and there will be many significant players..." Tharoor said. A superpower is a politically maturing power (country) with a global reach... And India is working to improve its geo-politics, he said.
Tharoor, who has authored 12 books, published his last book Shadows Across The Playing Field in 2009.
The Great Indian Novel, India: From Midnight to the Millennium, and The Elephant, The Tiger and The Cellphone: Reflections on 21st Century India are some of the books penned by him. — IANS