Ceremonial feast
Equally good with phulka or rice, kootukari beautifully balances
nutrition and provides relief to the spice-jaded palate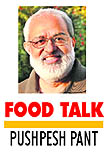 Kerala is the strip of land that according to myths emerged out of the ocean when Sage Parshuram flung his blood-stained axe into it to wash off the stain of matricide. There are many other legends that lend colour to it. This was where Vishnu assumed the dwarf form to dispatch the demon king Bali to netherworlds. Till date fact and fable mingle in everyday life in this colourful land. It is home to Kalarippayattu that brilliant martial art form and this is where you can spend nights soaking in kathakali performances that make epic heroes and villains come alive. Among the myriad delights of Kerala, its culinary gems rank high.
Food lovers can savour not one, not two, but four distinct cuisines — Mapila Muslim, Syrian Christian, Naboodiri-Brahmin, Nair-Menon martial Hindu not to forget the white Jewish.
Those who dwell here have a penchant for coconut — oil, grated, dry, desiccated — and like to follow the wisdom of ayurveda in everyday diet. This is the spice garden to the world where aromatic cloves, pepper and cardamom are grown. And, of course, the fruits of the sea are relished greatly.
However, to set the record straight, Kerala foods are much more than chemmeen, karimeen, add the rest. Vegetables considered plebeian elsewhere are treated with respect and combined in unusual karis — beautifully balanced nutritionally and providing a relief to the spice-jaded palate.
Kootukari is one such recipe that is prescribed for the ceremonial sadyam feast when, at least, eight different karis have to be prepared. We are particularly pleased the way grams are paired with yam and flavouring is minimalist. Do try this out. Equally good with phulka or rice.

Kootukari
Ingredients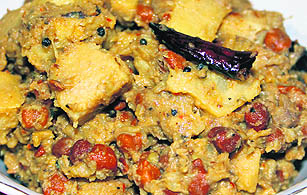 Bengal gram soaked overnight 1-1/2 cup
Unripe plantains pealed, cubed four
Zimikand pealed, cut in cubes 250 gm
Peppercorns coarsely ground 10-15
Dried red chillies shredded two
Spice paste
Coconut medium-sized grated one
Cumin seeds ½ tsp
Salt to taste
Tempering
Mustard seeds 1 tsp
Dhuli urad dal 2 tbsp
Dried red chillies shredded 4-5
Coconut grated ½
Method
Cook the yam and plantains with powdered spices and chillies in 1-1/2 cup of water for about 15 minutes. Pressure cook the grams till soft to taste. Stir in spice paste (prepared by grounding the cumin seeds with the grated coconut), salt and mix with the cooked vegetables. Continue cooking till almost dry.`A0Heat oil for tempering in a pan. Add dal, red chillies and mustard seeds. When these start spluttering, add grated coconut and fry till it turns brown. Pour over kari, mix well and serve.