Get animated with Tintin
Spielberg's The Adventures of Tintin: The Secret of Unicorn has the right
ambience for a breezy narrative and is dotted with humour


Another comic book made into a film. The list is endless but this one The Adventures of Tintin: The Secret of Unicorn was more than 20 years in the making but it seems well worth the wait. At the time of filming the first Indiana Jones, director Steven Spielberg was told that the hero was very much like the comic book hero, so he went about negotiations with Tintin creator Herge and his managers on how best it could be done. Meanwhile, the assembly line was busy turning out his previously planned movies.
Spielberg has gone about the task quite professionally though the hype has been considerable. But after a distinct effort to get into the spirit of things, it sort of grows on you and yes, even becomes enjoyable.
The three main characters are the bland Tintin (Jamie Bell), who runs into the colourful Captain Haddock (Andy Serkis) in a drunk condition and locked in his cabin by the villainous Sakharine (Daniel Craig), the third character.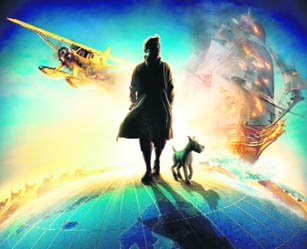 The film, which took 20 years in the making, seems well worth the wait

Director Spielberg and scriptwriters Steven Moffat, Edgar Wright and Joe Cornish put together just the right ambience for a breezy narrative, dotted with delicious humour and put across by good cameos like Thomson (Simon Pegg) and Thompson (Nick Frost).
The film belongs as much to creator Herge as filmmaker Spielberg, who are in perfect sync and combine three different adventures — The Crab with the Golden Claws, Red Reckham's Treasure and the Secret of the Unicorn — blending into a composite single story that throbs with life and vivacity. The scene in Baggar (in Morocco) where Tintin on a bike chases an eagle flying above with secrets of the ship Unicorn is just out of this world.
The characters are aptly voiced by actors, who have done these animation films before. They saw some characters have been left out but that matters little to the overall entertainment. So even if you aren't a comic-book fan, it just begs to be seen. Younever repent it.