Hollywood hooked
The "East is East..." refrain of Rudyard Kipling hardly holds today — what with Lady Gaga
rocking the Indian Grand Prix and Shakira shaking a leg at a bash in India. To add sizzle
to the Indian winter, Jennifer Lopez will join rapper PitBull on his India tour. Vimla Patil
looks at what drives this business between Bollywood and Hollywood

EVEN a cursory check of the current scenario shows how superfast technology and quick travel have brought massive business and cultural communities together to change and reinvent traditional tastes of all the 'people out there' — the aam aadmis — who are downloading videos of western and Indian hit songs and dancing to the music created by Bollywood's never-tiring item song-creating mills. Today, fame and glamour have no colour, nationality or boundaries.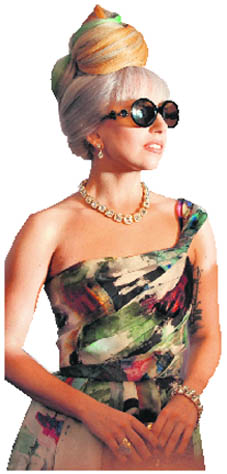 Popstar Lady Gaga took home a Ganesha idol after her recent visit to India for an F1 event. Photo: AFP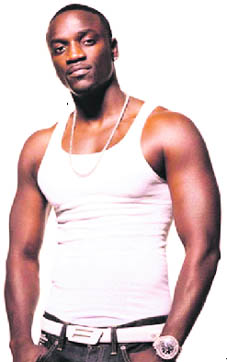 Top US-Senegal rapper-singer Akon has made SRK'S Chhamak Chhallo a global hit

"Why do you think Paris Hilton, Lady Gaga, Akon, Richard Gere, Julia Roberts — who wanted to adopt an Indian baby — Angelina Jolie, Gillian Richardson and Shakira come to India?" asks Sharmilla Chowdhury, a top event creator. "With many countries of the West in recession, India is a huge new market for them. Also, it is the biggest English-knowing nation in the world with the US and Australia. This creates many common links. There is a huge opportunity here for everyone to earn fame, fun and funds. Hollywood stars are infatuated with Indian culture and lifestyles because they are ornate and grand. They are impressed with the palaces, the jewellery, the hospitality of the rich and famous and the welcome that commoners give. There are social causes to support, work to be found and a good time to be had. There is big money in the pockets of Indian celebrities, who can buy Paris Hilton's handbags or entertain stars like Angelina Jolie or Julia Roberts. Kylie Minogue danced with Akshay Kumar in the film Blue for a reported `A3100,000 UK a day! Celebrities like Liz Hurley come to get married in palaces here."
"This month, the Hips Don't Lie and Waka Waka singing star of Colombian origin, 29-year-old Shakira rocked the glamorous Lake city of Udaipur, when she performed in the illuminated Jagmandir Palace to celebrate the 80th birthday of real estate tycoon K. P. Singh," she continues. "Shakira — on her second visit to India after her thundering performance in Mumbai's MMRDA grounds in 2007 — called Udaipur 'the most beautiful city in the world' and said 'Shukriya Udaipur!' to the cheers of the crowd. Making friends among Bollywood stars and India's top industrialists, Shakira promised to return to India soon. Her performances have brought her not just millions of fans but also undisclosed huge sums of money and gifts.
"What ties Indians, the Indian diaspora in many countries and international celebrities together is the recognition of India as a fast rising economic power and the wonderful treasures of clothing, entertainment, jewellery and lifestyle that it offers. World celebrities — including royals — have always taken such luxuries from India. Now, however, the Indian media is going to town publicising these visits because the media is a huge business today and such news is attractive for the aam aadmi. These-tie ups are hugely beneficial to all concerned."
"Indian fashion and jewellery is big today," says Ravi Bajaj, one of India's ace designers, who recently had a preview in Delhi before presenting his fabulous fusion collection at the Dubai Fashion Week 2011. "Dubai, Delhi and Mumbai are the spanking new fashion capitals of the world," says Varsha Rai, a young designer.
Who benefits from this exchange of visits between celebrities? "Undoubtedly, Bollywood stars benefit because they become world celebrities. Western celebrities gain either in business or new fame," says Shomu Sanyal, a senior mediaperson, "International stars and celebrities get a larger personality when they come to this country of more than a billion people. India is the rich economy of tomorrow and the signs are visible everywhere. So is China, but India has the advantage of mastering English and being democratic. Neither do world celebrities flocking India surprise me, nor does the media coverage given to them. Everyone concerned benefits from the game because Indian stars going West also have big assignments. Just look at the increasing number of wax images of Bollywood stars in the famous Madame Tussauds in London. The driving forces which bind all celebrities together are big money and international fame. Look at the huge fan base of Shah Rukh Khan or Salman Khan in the UK or the US or the worldwide shows that A. R. Rahman has performed and you will see what I mean!"
Add to this the fact that India — or the Orient — is no longer the 'coloured colonies' of western powers. The whole concept of 'coloured', 'black', 'pagan', 'heathen' or 'backward and uncivilised' has been chucked out of the window by today's youth. Today, in an equal world, all cultures, traditions and religions are open to all and there are no strictures on what one should believe in or practice.
Rudyard Kipling's refrain, "East is East and West is West," hardly holds in today's global world, where there are no masters among nations and certainly no slaves. This helps greatly in sharing the wonderful heritage of all countries where food, art, lifestyle, fashion, business and entertainment are concerned. Today, young Britons slurp on curry-rice and urban Indians hunger for pasta and pizza with equal panache. Americans experiment with Indian yoga and the French appreciate Indian wine! Money and multiculturalism makes everyone equal. This is a new, unique young world where the maximum number of people are Asians under the age of 35 — and that makes a big difference in what they want to achieve: The melting of all differences and the unification of the world in one big family where all live in peace and goodwill. This is what every travelling celebrity has expressed. This is the huge mass of people whom celebrities from all English-speaking countries address because this brings worldwide oneness, fame and success!
| | |
| --- | --- |
| | |