Sherlock Holmes sequel a 'bromance'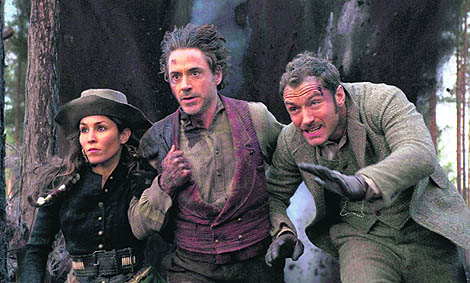 Robert Downey Jr. and Jude Law have guaranteed that Sherlock Holmes: A Game of Shadows will delve deeper into the "bromance" between Sherlock Holmes and Dr. Watson. The two actors have insisted that the sequel won't be any different from the first Sherlock Holmes movie directed by Guy Ritchie, which was noted for the chemistry between Downey Law.
"Last time around, there was, for some reason or other, that wave of 'bromance' in the air. I don't think when you see this, you'll feel that we've restrained ourselves at all," Contactmusic quoted Downey as saying. "Truth be told, the bottom line with these stories, it's about this one man's observation of this other man, who tells him that he is the only true friend he has and him realising that he is the only person that he is actually very, very close to besides his wife.
"I think that that's just a great theme. The bottom line is that we are in this love together," he added. — ANI