Social media a popular business tool
FOR 15-year old Shraddha Sharma, uploading videos on Youtube was just another way to appease a friend who was unhappy with her. But little did the Dehradun-based girl know that she would soon be the online singing sensation of India within weeks! Six months and eight video uploads later, she now has almost 30,000 subscribers to her Youtube channel, more than four million video views and a whopping 110,000 fans on Facebook.
Whatís more? She has been signed on to perform at a popular college festival in Delhi and has plans to launch her first ever music album soon.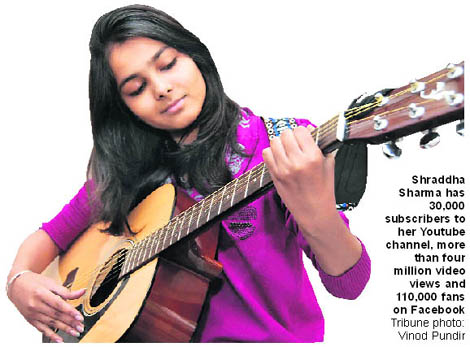 "Social networking sites are not just popular among youth, but everyone. Everybody wants to remain active on these sites. So I thought that social media and Youtube would be the best platform where I can share my talent," says Shraddha.
Youtube has also made her a star outside India. "Now, My fans are from many places outside India like Pakistan, Toronto and Canada who like my singing. They give me feedback, comments and suggestions about my singing on my Facebook page," adds Shraddha.
And she is not the only one using social media to popularise and market herself.
Riding on the growth of the Internet in India, social media has become more than a tool of communication and keeping in touch with friends. Big and small business houses are now aggressively using the platform to market themselves.
Websites like Facebook, Twitter, LinkedIn and numerous blogs have become a serious force in the digital world, making it hard for any company to ignore their power.
According to a Burson-Marsteller report, 79 per cent of the largest Fortune 500 firms use these platforms to communicate with their customers and other stakeholders.
Looking at this popularity, ibibo.com, an online gaming and interaction website, has now diversified to social media games.
Easy and economical, social media marketing, is proving to be the most popular and fastest way for businesses to market their product and connect directly with the consumer.
According to Online Media brand visibility analysis firm, Meltwater, they receive one client every two days, who are eager to know how effective are their online marketing efforts throughout India.
With an annual turnover of more than $ 100 million, it has added over 20000 clients globally, out of which 200 are in India alone.
"Indians have been very aggressive and early adopters of social media networking. If you compare Indian adoption of Facebook, itís much greater than Singapore or Hong Kong. What we know of online media is that 200,000 are joining social networks per month. So five years down the line, itís a huge amount of people using the social media," says Ewan Ross, Managing Director of Meltwater India According to a report, the global social media marketing industry is poised to cross $ eight billion by 2015. ó ANI