'The Dirty Picture is not vulgar'
Surekha Kadapa Bose chats up Vidya Balan about her latest film,
which is a biopic on the life of South Indian siren Silk Smitha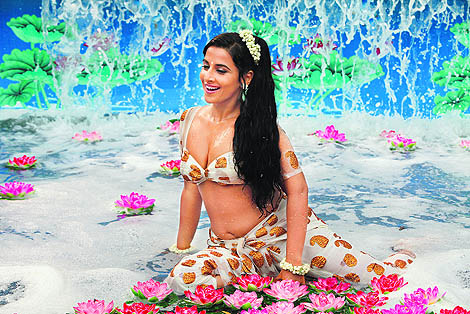 The film shows the highs and lows of a dancing star

FrOm the shy, conservative Parineeta to a woman, who celebrates her sexuality in The Dirty Picture, Vidya Balan has come a long way. An actor who has worked with veterans like Amitabh Bachchan, Naseeruddin Shah, Sanjay Dutt, Vidya feels she still has a long way to go and says that itís her acting prowess, which makes directors cast her for unconventional roles she has essayed so far.
The Dirty Picture is your first movie where you really play the lead. Was this why you signed the film?
Well, in many of my past films like Parineeta and Ishqiya, I have been the central character. I signed on the film because The Dirty Picture celebrates the woman like a rainbow in all her colours. It was an extremely unconventional role, the character to be played and as an actor it was a great challenge.
Parineeta, Ishqiya, Paa, No One Killed Jessica and several others. But The Dirty Picture is a movie which brings in a new Vidya Balan the audience hasnít seen. How was it playing the sexy siren of the 1980s?
I love experimenting with my roles and The Dirty Picture provided me with the perfect opportunity to do so. I have never enjoyed being a woman more than in this film. Some people might have issues with digesting my character, but Iím sure women will enjoy the film. Iíve celebrated my sexuality in this film. I would thank Ekta Kapoor and Milan Luthria for giving me this opportunity. Iíve given it my all.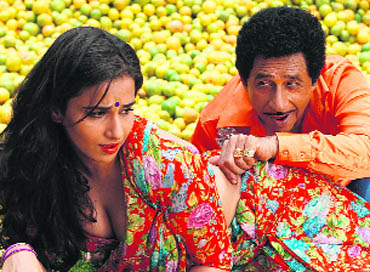 After Ishqiya, Vidya Balan and Naseeruddin Shah will again be seen together in The Dirty Picture

Before I started shooting, I had told everyone that throughout this film either I am going to walk holding Milanís hand or he would hold mine. I donít know which way it worked but I just knew I had to trust Milan completely. As far as the bold exposure in the film goes, I knew I was in very able hands. It was not meant to look ashlil. I was confident about that. And if you do something with conviction, it always turns out beautifully.
This is the second movie you are doing with Naseeruddin Shah. Were you nervous the first time you had to face the camera with him?
I have worked with Naseer saab before in Ishqiya and it was an honour working with him again. He is a powerhouse of talent, and it is a privilege for me to be sharing screen space with him again in The Dirty Picture. Initially, I was very nervous about working with Naseersaab in Ishqiya, but he made me extremely comfortable. While shooting for The Dirty Picture, I tried not to show my nervousness while sharing screen space with him by cloaking it under my makeup. But he is so encouraging without being blatant about it that I will always remain grateful to him for that.
In the film, Naseersaabís boldness is in his attitude. His eyes were full of lust and that made his portrayal bolder. In fact, he was bolder than Emraan Hashmi. He made his portrayal so convincing that I was comfortable.
You were appreciated for your role in No One Killed Jessica. Do you expect the same with The Dirty Picture? Coincidentally, both are a sort of biopics. How do you prepare for such roles?
As an actor, I like to challenge myself and take up roles that people can relate to. Everyone enjoys being appreciated and I hope people appreciate my character in The Dirty Picture too. It is difficult to enact such roles, as in India, we are not physically demonstrative in public, so doing bold scenes becomes difficult for everybody. It is important for me to portray my characters realistically, but ultimately itís my directors and writers vision. The only instruction that I got from Milan was to be Ďbindaasí for The Dirty Picture.
The Dirty Picture is a very bold step for someone like you, who comes from a traditional Tam-Bram set up. Was it an attempt to break away from your girl-next-door image?
Like I said earlier, I celebrated my sexuality through The Dirty Picture. Itís about a woman, who believes in herself and has no qualms about being the way she is. Itís a film where I enjoyed being a woman. The film was also a refreshing change as I got the opportunity to do everything what a 1980s actress would do. I havenseen much of Silk Smithaís films, except Sadma where Silk had a brief role. Silk Smitha was fearless and so is "Silk" in the film. The Dirty Picture shows us the highs and lows of a dancing star.
Do you think such retro films will work when audiences have changed tremendously?
Of course, they will, at the end of the day films have to be entertaining. Let me quote my line from The Dirty Picture, "Filmein teen wajah se chaltein hain, entertainment, entertainment aur entertainment, aur main entertainment hoon".
With the kind of filmography you have had making every film have a different image, do you think you can make more meaningful films which the likes of Smita Patil, Shabana Azmi and very few others did? How important is the image of an actor ó male or female to bag good films?
Thank you for putting me in the same league as Shabana ji and Smita ji. I would love to do the kind of films they worked in, but at the same time, I need to keep in mind that the film should be entertaining and engaging enough for the audiences. I feel as long as someone is talented, film offers will keep coming their way, so more than an image, itís important for an actor to be talented.
What next? Continue acting or are there any plans to move to direction or production?
There is Santosh Sivanís grand epic drama, Urumi, about which I am very excited. I like living in the moment and believe in taking one step at a time. There is a lot that I need to achieve as an actor yet, and acting is my first love. So I will definitely continue acting and would like to focus on that as of now.