M A I N N E W S
Isolated on FDI, govt calls all-party meet


Congress core group meets ahead of Tuesday's crucial meet to firm up stance

Allies TMC & DMK join hands with Oppn to demand withdrawal of decision
Anita Katyal & Faraz Ahmad
Tribune News Service
New Delhi, November 28
Finding itself isolated on the UPA government's decision to allow foreign direct investment (FDI) in retail, the Congress leadership went into a huddle this evening to firm up its position ahead of an all-party meeting called tomorrow to end the ongoing logjam in Parliament.
An emergency meeting of the Congress core group, headed by Sonia Gandhi, was held at Prime Minister Manmohan Singh's residence where several suggestions were thrown up, but no final decision was taken as there is an overwhelming view in the government that it should not backtrack on its decision as it is within its rights to take executive decisions.
However, it is being proposed that the government defer the implementation of the policy by referring it to an empowered group of ministers for further discussions as it had done in the case of the manufacturing policy.
Another suggestion is that the 51 per cent FDI cleared by the Cabinet be diluted to meet their opponents half way.
Those who do not favour a rollback maintain the government's decision has changed the political discourse, which, so far, was dominated by issues like corruption, black money and price rise even as the ruling coalition has been accused of a "policy paralysis".
The government, according to them, has sent out a message that the UPA government wants to move ahead with its stalled reforms agenda but it is the Opposition which is not allowing it to function.
Even as it weighs its options, it is clear the Congress is in a fix as the ruling coalition's decision has united the Opposition while UPA allies like the Trinamool Congress and the DMK have also come out against this move, stepping up their demand for a roll back of this policy.
There is also growing disquiet in the Congress with several ministers like AK Antony, Vyalar Ravi and Jairam Ramesh privately expressing their reservations on allowing FDI in retail.
Congress leaders from poll-bound Uttar Pradesh are learnt to be extremely upset over the timing of this decision, especially since BSP supremo and UP CM Mayawati has upped the ante.
On Monday, Parliament was adjourned to protest government's decision even as the Opposition and UPA allies remained adamant they would not budge till the ruling coalition reconsidered its decision. In a belated effort to buy peace with the Opposition, Finance Minister and Lok Sabha leader Pranab Mukherjee called an all-party meeting in the morning tomorrow while Commerce Minister Anand Sharma sent a letter to the leaders of all political parties to explain the benefits of the policy. Although UPA ministers insist that they should not succumb to Opposition pressure on an executive decision, they also reluctantly admit that they had not factored in the vehement reaction of its own allies.
Facing the storm
Prime Minister Manmohan Singh, who met Congress president Sonia Gandhi, held parleys with senior ministers Pranab Mukherjee, P Chidambaram, AK Antony
and Commerce Minister Anand Sharma to devise the government's strategy.
Leader of the Lok Sabha and Finance Minister Pranab Mukherjee will meet floor leaders of political parties in a bid to break the deadlock
The meeting has been convened as an effort to talk to the Opposition to ensure smooth functioning of Parliament, which has been paralysed for five days

Anand Sharma bats for retail FDI; says it will benefit all
Sanjeev Sharma/TNS
New Delhi, November 28
Staring at a stalemate over the issue of FDI in the retail sector, the government today went into damage-control mode with Commerce and Industry Minister Anand Sharma reaching out to Opposition leaders and chief ministers to garner support for the contentious policy move.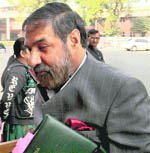 In formulating this policy, we were conscious of the livelihood concerns of millions of small retailers.— Anand Sharma, Commerce & Industry Minister
Apart from Sharma's letter, the government today also came out with some clarifications on the policy. It clarified that the sourcing of a minimum of 30 per cent from small and medium enterprises would be through Indian entities. There was some ambiguity over whether the sourcing would also be from foreign entities.
The government also clarified on whether or not the states would have a crucial role in adopting the FDI policy. It said the FDI policy was an enabling framework and it remained the states' prerogative on whether or not to adopt it.
Seeking support across the political spectrum, Sharma, in his letter, said, "Policy initiatives taken in larger national interest demand political leadership to rise above partisan politics to create a healthy bipartisan consensus."
The letter was sent to senior BJP leaders Sushma Swaraj and Arun Jaitley, CPM leader Sitaram Yechuri, RJD chief Lalu Prasad Yadav, Bihar Chief Minister Nitish Kumar, West Bengal Chief Minister Mamata Banerjee, Orissa Chief Minister Navin Patnaik, UP Chief Minister Mayawati and Tamil Nadu CM J Jayalalithaa among others.
Emphasising that the policy would benefit farmers, retailers and consumers, he said he had spoken to the Competition Commission that would ensure that MNCs did not indulge in predatory pricing to drive away small retailers.
He said, "In formulating this policy, we were conscious of the livelihood concerns of millions of small retailers."