India, China to hold defence talks as per schedule in Dec
Ashok Tuteja/TNS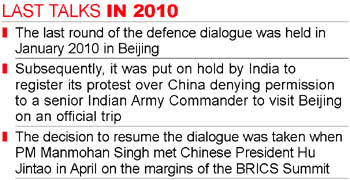 New Delhi, November 29
The India-China Annual Defence Dialogue (ADD) will be held as scheduled here on December 8-9, External Affairs Minister SM Krishna indicated today.
"I think, we expect whatever is in the pipeline will continue,'' he said on the sidelines of a Passport Officers' Conference when asked whether the defence dialogue would take place.
This sets at rest the speculation that the defence dialogue too might be deferred in view of the postponement of the 15th round of boundary talks between the two countries following differences over the Dalai Lama's scheduled address tomorrow at a global Buddhist conference.
The defence dialogue will be held between Indian Defence Secretary Shashikant Sharma and Chinese Deputy Chief of Staff Gen Ma Xiaotian.
Krishna also met Indian Ambasssador to China S Jaishankar, who had arrived here last week to prepare the ground for the talks between the Special Representatives of the two countries on the boundary issue. Jaishankar is understood to have briefed the minister in detail on various issues connected with the Sino-Indian ties.
"Our ambassador to China was here for regular consultations with the foreign office. He had come prepared to assist the government in the talks to be held between the Special Representatives,'' Krishna said.