HUDA's winter bonanza: 2,300 residential plots in 5 cities
Pradeep Sharma/TNS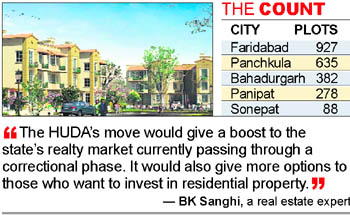 Chandigarh, November 29
It's raining plots in Haryana. In a virtual December bonanza for end users and investors, the Haryana Urban Development Authority (HUDA) is offering over 2,300 residential plots ranging from four marlas to one kanal in the already-developed sectors in different urban estates across the state. What's more, these plots would be available at a price much lower than the prevailing market rate.
To begin with, HUDA will offer plots in five urban estates — Panchkula, Sonepat, Bahadurgarh, Faridabad and Panipat — for the general public.
Officials said these chunks of land are "balance" plots which could not be allotted for one reason or the other over the years and are much sought after by the public since the infrastructure is already in place there.
HUDA chief administrator DPS Nagal said modalities were being worked for allotment of these plots.
Giving a break-up, officials said the maximum number of plots (around 927) would be available in Faridabad (the largest city of the state) followed by approximately 635 plots in fast-growing township of Panchkula. While 382 plots would be available in Bahadurgarh, the figure for Panipat and Sonepat will be 278 and 88, respectively.
HUDA sources said these plots would be available at a price much less than the market rate. The plots would be offered at the official price of the year in which the housing scheme was floated in a particular sector in the urban estate concerned.
A nominal interest per year would be added to the official price of the plot, a senior official revealed.
"The fresh HUDA move would spice up the realty market in the state which is currently passing through a correctional phase. Besides, it would give more options to those who want to invest in residential property," BK Sanghi, a Panchkula-based real estate expert.