OOH LA LA…
We were expecting to see her in a hot red sari. It has become her dress over the last few weeks. But the 'slightly' voluptuous Vidya Balan walked in at Score, Sector-8, Chandigarh, in black pants and polka dotted green top with those huge sunglasses. Remember, she is still living the role and on the promotion of her film she let's us take a good peek into the making of Silk Smitha, the character she plays in the movie. Before you start expecting something different or 'dirty', we puncture all excitement and get straight to the point.

Vidya Balan Photo: Parvesh Chauhan
The language of MUSIC
People have been literally going crazy over the latest Kolaveri Di song from the Tamil movie 3. Though the lyrics are in English, there is a distinct Tamil touch to the song. And that's what a song needs — a catchy tune so that the audience is hooked. Not so long ago, Tamil song Apdi Pode became popular with people across India despite the Tamil lyrics.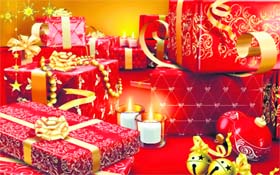 A gift to remember
Payals (anklets) as return gifts on mehandi ceremony, golden clutches on reception and pearl necklaces on wedding ….like everything else related to a wedding, return gifts are also getting bigger and better. Gone are the days when those who attended a wedding had to do with shagun and sweets (relatives would get clothes as well).
Hair we go!
From tight locks to loose curls and sleek buns, winter brings along not only a change in wardrobe trends but also hairstyles. And that extends to haircare and colour as well. Well, if you are looking for a winter hairstyle trend, it starts with angles, edges, cuts and feminine styles.
Cure diabetes with low calories
Here's some good news for people suffering from Type 2 diabetes -- eating a low-calorie diet everyday for just four months could cure the disease, a new study has revealed.
celeb point
A different role
Some of my best films have been with UTV — Welcome to Sajjanpur, Dilli 6 and my friend Pinto. And now the next one is, Heroine, which has been directed by Madhur Bhandarkar. I have known Madhur ever since I began my career and I have loved his cinema, be it Chandni Bar, Page 3 or Fashion.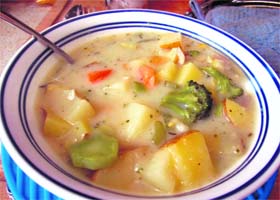 Master Chef
Meal in a bowl
As winter slowly creeps in and the sun bids us an earlier adios, I love spending the longer evenings watching a good movie or leaping leopards or prancing primates on Animal planet. On such occasions, I take delight in a simple, satisfying meal, easy to dig into, without the fuss of placing mats, forks and knives. My husband complains since he is so proper, but I pretend to be deaf as well as dumb, ignoring his scowls!
Remembering Ustad Sultan Khan
2011 seems to be one of the worst years for artistes. We have lost so many soulful souls, legends who will never be back and we can only listen to their recordings now. And one of the best sarangi maestros we lost now is Ustaad Sultan Khan. Sultan Khan was famous for playing sarangi but he also became famous because of his vocals and has sung some wonderful songs like Piya Basanti, Albela Sajan and so many others.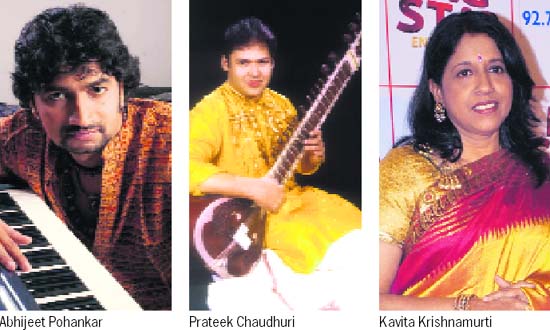 All-praise for Anushka!
Ranveer Singh is very fond of Anushka Sharma and he makes his feelings quite obvious in an adorable way.
Anushka Sharma
She is one of my closest friends and has become part of my inner circle. I trust her, I confide in her. She is such an amazing actress and she taught me how to make eye contact and act spontaneously.
Set to steal hearts
Naseeruddin Shah is all set for the release of The Dirty Picture and the actor is excited about his role as he says, "I can see audiences are very excited about this film. Actually this is the first film I am seeing people are excited to see my character. So I am waiting for the release. My chemistry with Vidya worked in Ishqiya and that has attracted audiences towards this film too."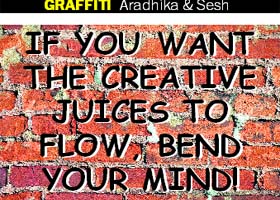 chatter box

Image makeover
Sonakshi Sinha is desperate to shed her desi girl and village belle image. She is posing in western outfits all over the place. It will be a while before the image change is accepted.
New look: Sonakshi Sinha

Phone buff
Sonali Bendre is a phone addict and she loves gadgets. She has to buy all the latest ones and keeps changing her phones every now and then. She pays more attention to her phone than her friends. We hope she realizes that people are more important than gadgets.
Gadget freak: Sonali Bendre

Kangana going ga-ga
Kangna Ranaut has super sexy and slick costumes in the sequel to Kriishh because she plays a mutant in it. Gavin Miguel is doing her costumes and one of the teams he is working with has also worked with Lady Gaga.
Superwoman avatar: Kangna Ranaut

Pricey act
Reportedly, Vidya Balan has asked for more money than Farhan Akhtar for their film together. Let us see what happens. Is the lady becoming too big for her boots and will she look good with Farhan as she looks mature and he looks like a boy.
Money matters: Vidya Balan

Live life PC style
Priyanka Chopra says that you have to believe that you are beautiful and brilliant for other people to believe the same and you have to be a tad arrogant about success. Interesting beliefs, we agree about all the self-loving!
Attitude queen: Priyanka Chopra

Success step

Basharat Baba, the lead star of the documentary Inshallah, Football has finally gone to Brazil. The team is ecstatic because their efforts have paid off. He will not play the game as he has passed the age but will now train to become a coach. Mash Allah!