M A I N N E W S
PM calls up Mamata, gets a firm 'no'
Anita Katyal
Our Political Correspondent
New Delhi, December 2
A day after his meeting with UPA allies, Prime Minister Manmohan Singh called up Trinamool Congress chief and West Bengal Chief Minister Mamata Banerjee to seek her support for the government's decision allowing foreign investment in multi-brand retail trade, but met with no success.
Let states decide on FDI, says Pranab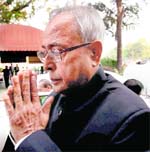 Pranab Mukherjee in New Delhi on Friday.–PTI
In a clear message to allies and opponents, Finance Minister Pranab Mukherjee on Friday asked them not to stand in the way of states wanting to implement FDI in retail and said efforts were on to work out an acceptable motion to face a parliamentary vote.
Standing firm on her decision, Mamata said her party cannot support the Centre's FDI policy but, at the same time, maintained that she did not want the government to be toppled on the issue.
"I told him respectfully that we don't want the government to be toppled on this issue. But at the same time, it is not possible for us to support FDI entry into the retail sector," Mamata Banerjee said in West Bengal today.
While the TMC chief is refusing to budge from her position, the DMK, which is also opposed to the UPA's FDI policy, is open to persuasion. DMK leader TR Baalu, who had attended the PM's meeting yesterday, suggested that the government should keep the policy in abeyance and use the opportunity to educate public about its benefits. The DMK has, however, said it would not break ranks with the UPA in case of a vote in Parliament.
The allies find themselves in a predicament. They are unable to support the FDI policy because of political compulsions, but they also do not want to vote against the government in Parliament.
The TMC and the DMK would ideally like this issue to be discussed in Parliament but they do not want to be pushed into a situation where they were forced to vote on it.
Not sure about its numbers, the government has been unable to accept the Opposition's demand that the FDI policy be discussed through an adjournment motion followed by voting. The government is instead pushing for a debate under rules which do not entail a vote on the plea that policy decisions, which are firmly in the domain of the executive, could not be put to vote in Parliament as this would set a bad precedent and blur the lines between the executive and the legislature.
As a result, Parliament remained paralysed for the ninth day as both Houses were again adjourned without transacting any business. Since Parliament will now reconvene on Wednesday, Congress ministers said they would use this break to sort out their differences with the allies.
Speaking at a function in Delhi, Finance Minister and Lok Sabha leader Pranab Mukherjee was not prepared to say if the government would succeed in resolving the crisis within the next four days. "But the process is on," he said, adding, "We are discussing with various political parties. Sometimes it appears that there is no meeting ground. But if we can find an agreed text on which discussions can take place on the floor of the House amongst political parties, then perhaps we can resolve this issue."
He also had an indirect dig at Mamata Banerjee though he did not name her when he remarked that narrow political gains were taking precedence over the implementation of policy framework.
"You can exercise your authority within your territorial limit but don't stand in the way of the others who want to implement it," Mukherjee underlined, stating that the FDI policy was an enabling provision and the states were free to accept or reject it.