MUSIC ZONE
Noel Gallagher — High Flying Birds (Island)
Saurabh & Gaurav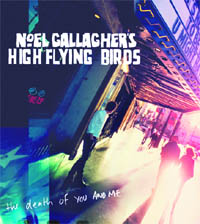 On his solo outing, Noel Gallagher ditches Oasis's stadium-ready rock in favour of more intimate ballads you can hardly imagine the band performing. The collection opens grandly with "Everybody's on the run," building slowly to an epic chorus with echoing vocals and soaring choir. From strident strings on the anthemic (Stranded On), The Wrong Beach to New Orleans trumpets on the record's standout track "The Death of You and Me," the effect is that of an artiste in total control. "If I Had a Gun" starts with plaintive guitar strumming before exploding into one of Gallagher's patented lighter-waving anthems, but much of High Flying Birds is concerned with more discreet charms, like the heartfelt balladry of Everybody's on the run. Soldier Boys and Jesus Freaks is a piece of the late 1960s psychedelic wistfulness punctured by trumpet, while the emotionally damaged AKA...Broken Arrow has a slightly gospel feel with the lyrics, "She comforts me and eases my troubled mind. She shines a light out into the shadows." Lyrically ballads (I Wanna Live a Dream in My) Record Machine and Stop the Clocks outshine.
"If I had a gun I'd shoot a hole into the sun/ And love would burn this city down for you," he sings behind an acoustic guitar, launching into the album's catchiest chorus, blending in Beccy Byrne's backing vocals. The most bounce you get is in the rootsy shuffles found in the likes of The Death of You and Me, reminiscent of the Kinks and the Beatles, two of Gallagher's chief idols and most transparent influences.
Best track: Everybody's on the run
Worst track: Stop the clocks
Rating ***
Tom Waits — Bad As Me (Anti)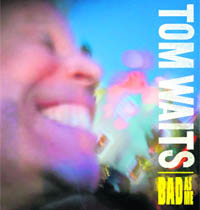 Wait's first album in seven years, begins en route to his country, with Chicago setting lyrics about exile and true love to tremulous locomotive rhythms. "Things will be better in Chicago," he grunts. Waits is joined by Richards on the choruses of the delicate ballad Last Leaf, each sounding exceedingly frail as they sing about the significance of being that final leaf to fall from a tree. On Raised Right, he's proud to praise the virtues of a good woman who can make a diamond from a lump of coal, while on Same Time, his notorious side can be heard politicising about the rich getting richer and the poor getting bloodier. Bad as me is yet another sensational landmark on the long, well-travelled path of a man who simply refuses to age. Lyrically, he touches on everything from the financial crisis to war. Talking at the same time is a thinly obscure attack on bankers: "We bailed out all the millionaires, they've got the fruit, we've got the rind." Back in the Crowd has a Mexican air to it, as Waits laments "take my picture from the frame/and put me back in the crowd." Other notable tracks find Waits feeling the cool chill of life's autumn and contemplating the changes to come. Album closer New Year's Eve revisits the schmaltz of Waits' albums that preceded his early 1980s period, in particular Small Change. At 61, and several classic albums under his belt already, Tom Waits undoubtedly remains one of the true giants of music.
Best track: Raised right
Worst track: Hell broke Luce
Rating ***
Kate Bush — 50 Words For Snow (EMI)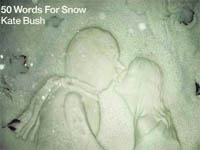 Out of Bush's catalog, 50 Words for Snow is the album least beholden to traditional song structures. Its seven tracks are lengthy, and she takes her time unfolding them. Kate's tech maven days are behind her, but her musicality remains formidable. Snowflake is a duet with her 13-year-old son, where the son plays the small fleck of snow falling down from the sky, his high-pitched, choir-boy voice hitting the kind of notes his mom was originally famous for. Wild Man, the closest thing to a pop song on the album, features some rare rock muscle and the frantic, double-tracked vocals that defined albums like The Dreaming and Hounds of Love. The album reaches a peak with Snowed in at Wheeler Street, a duet with Elton John, which seems to postulate a belief in reincarnation, as two lovers meet across centuries and continents, amid the embers of ancient Rome, the war-torn Europe of 1942, the smog of Victorian London and the rubble of 9/11. The composition twists from a driving rhythmic song to something akin to spoken word, mixing up a jazz sensibility with a touch of folk, creating an exciting musical space. The album's shortest song, the gorgeous closing piano ballad Among angels, clocks in at almost seven minutes. The title track is undoubtedly whimsical, but it's played and arranged so exquisitely that even a child should be able to acknowledge the scale of its achievement. The 11-minute Lake Tahoe is too eerie to be a lullaby, but the somnambulant spread and whispery orchestration soothe you anyway.
Best track: Snowed in a Wheeler Street
Worst track: Misty
Rating **
Album of the month
Coldplay — Mylo Xyloto (Capitol)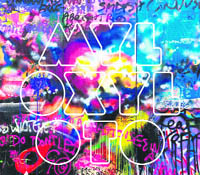 Following 2008's Viva La Vida Or Death And All His Friends, Coldplay return with the equally enigmatic Mylo Xyloto. Coldplay's biggest selling point has always been their gift for indelible, outsized melodies, and the band pushes that element on Mylo Xyloto in some effectively unexpected, innovative directions. Listen to how the powerfully titled Us Against the World starts out all quiet, a pretty harmonious painting with equally pretty patterns in the night time sky, before Chris Martin sings in his commendably polite fashion, "Through chaos as it swirls / It's us against the world." R&B pop queen Rihanna makes an effective collaboration on the electro pop Princess of China, the richly textured backing brings out interesting nuances in her sweet but tough vocals, but it is the very English soulfulness of Martin himself that really adds depth to the track. The penultimate cut of the first section is Charlie Brown, a driving and smooth message to youth and innocence that is as engaging as anything Coldplay has ever done. The second segment of the disc begins with the 49-second instrumental M.M.I.X., another foray into celestial noise that serves as segue for lead single Every Teardrop is a Waterfall, a synth-heavy splash of dizzying layered effects that is triumphant and pleasant. Meanwhile, Up With the Birds crystallises the album's opposing forces, finding comfort between moments that are both over and understated. Gleaming and shimmering at first, it gradually blossoms into a panorama of strident vocals. Mylo Xyloto ends with Up in Flames, a piano-driven ballad that will leave fans of The scientist and Fix you, and, drooling.
Best track: Us Against The World
Worst track: Hurts Like Heaven
Rating ****