Reality bites!
The entry of Sunny Leone, Canadian-born pornstar, into the Bigg Boss house has ushered in a big debate…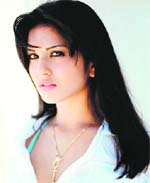 Curiosity killed the cat. However, in this case it has made someone popular or let's say — popular, overnight! Sunny Leone — the name sends a puckish grin across many faces, eye balls break into a samba dance — the latest entry in the reality show Bigg Boss has raised more dust than the 2G scam or the anti-corruption movement! The fact that Sunny is a Canadian-born pornstar has got people to sneak into the websites that give a lowdown on her — up, close and personal. At the same time, it has also ushered-in a debate on the sensibilities of television. The girl has brought in a mass awakening of the ethics of media; made audiences look right, left and centre when she breaks into a pole dance in one of the episodes. Suddenly everyone wants to get a low-down on the duties of censor board.
success mantra
High designs

Renu Khanna, a leading architect from the region, is known for finishing projects ahead of time. With creativity being her staple food, Renu never repeats her designs that are based on eco-friendly principles. Her recent Punjab Forest Department Building and Chapparchiri War Memorial have won her many accolades. The woman who is successfully managing her family life, profession, social responsibility and spiritual progress shares her take on life.
All is well...
For Namita Jain, nutritionist and wellness expert, food is the most important factor to maintain a healthy way of living...
There is no denying the fact that Indian food is about ghee-laden dishes and butter-rolled-up naans and spicy curries served hot. But when it comes to the word called 'balanced diet', we curl up our lips, shrug our shoulders and come out with an excuse - 'sab chalta hai yaar.' A zillion excuses to live on this extra fat, extra protein, extra carbohydrate diet!
Taste-ing time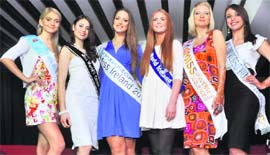 It was a glitzy evening at Nita Mehta's Kelong in Ludhiana on Sunday. The inauguration of Nita's restaurant saw beauty queens, including Ms World Canada and Ms World Ireland, add oodles of glamour to the show. Nita's restaurant promises to offer a five-star dining experience.
Glitz& Glamour: Models at the inauguration ceremony
Stay healthy
Shares Aditi, "Our present lifestyle is making us prone to lifestyle diseases, which can't be cured by medicines alone but require a diet that adds to the effect of the medicines and makes a person healthy. Diet Mantra will open up four clinics in Chandigarh, Panchkula and Mohali in the first phase.

Boman is back…
A professional photographer, Boman Irani had done theatre and featured in many TV commercials before he entered Bollywood. Having delivered some memorable performances since then, the versatile 52-year-old actor says he is lucky to be there at a time when different directors are bringing different styles to cinema.
Baby boy for Aamir and Kiran
Actor Aamir Khan and wife Kiran Rao have been blessed with a baby boy through surrogate. "It gives us the greatest joy to share with you the good news of the birth of our baby boy. This baby is especially dear to us because he was born to us after a long wait and some difficulty. Due to medical complications, we were advised to have a baby through IVF - surrogacy, and we feel very grateful to the Almighty that all has gone well.
Forever young
Veteran Bollywood actress Helen's debut Marathi film, One Room Kitchen, where she plays a Catholic woman waiting for the return of her son who is missing since the Kargil war, releases on December 16.

Hrithik turns director
Bollywood heartthrob Hrithik Roshan is stepping behind the camera to assist his father filmmaker Rakesh Roshan in the sequel to 2006 superhero film Krissh. The filmmaker confirmed the news, saying, "Hrithik always helps me out whenever we work together."
Mission India
Actor Anil Kapoor, who plays an Indian business tycoon in Mission Impossible: Ghost Protocol, believes that the international film fraternity is gradually realising the importance of the Indian market.
Nicki's Barbie moment
Singer Nicki Minaj says she is excited at the fact that toy company Mattel has crafted a Barbie Doll inspired by her looks. The 28-year-old declared that it was a "major moment" for both her career and for her fans whom she refers to as 'Barbies'.
Meet the star
Scarlett Johansson has put herself up for auction for a charity, where one lucky winner will get to meet the actress at the red carpet premiere of her new film, We Bought A Zoo in New York. The auction, which takes place on CharityBuzz.com, has an estimated value of 5,000 dollars.
Net shopping
Rachel Zoe is a fan of online shopping and loves the way internet fashion phenomenon fits perfectly into her busy schedule.
Lovato's tattoo tale
Actress Demi Lovato has revealed that her tattoos remind her how far she has come in life. The former Disney star was admitted to rehab in November 2010 to receive three months treatment for an eating disorder and self-harming. It was the time she got the inkings on her wrists to make sure she doesn't forget what she has overcome.
Happy at 30
Singer Kimberley Walsh insists she is comfortable being 30 and didn't freak out when she reached the age.
celeb point
Abhi na jaao chod kar…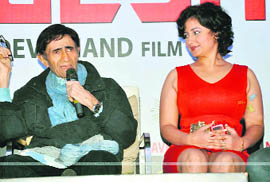 When I first entered his office, years back, my heart was beating fast. I was meeting someone I thought was the ultimate in good looks and charm personified. As I entered his room, he, in his ineffable style said, "Divyaa, kaisi ho!" I pinched myself. I was with the evergreen Dev Anand. I had worn my favourite red. And I greeted him with my brightest smile. Just chatting with him could make you fall in love with cinema. He said he would call me whenever there is a role for me.
green thumb
Winter-proof
Nature is great. It keeps tab on every living being so that it can take care of it. The plants that cannot speak have also been looked after against the vagaries of weather. When we feel the nip in the air, we wear woollens to keep warm. But can the plants express their needs? No. But the nature has developed mechanism in plants to ward off the ill effects of vagaries of weather. How?
Short take
A two-day short film festival in Chandigarh brings the best of the film world
The trio, Mohneesh Kalyan, Jangveer Singh and Arun Chadha, of Fool's Paradise Productions, is promoting theatre by taking it to an international level. After organising a two-day short film festival at Punjab Kala Bhawan in October which received an amazing response, the group is all set to organise an international film festival in collaboration with the European Independent Film Festival on December 8 and 9.
At break-neck speed
On an average, people spend just three minutes and 15 seconds on a weekday breakfast, and most of the time they eat it standing up as they are pressed for time, a new study has found. According to the survey commissioned by Weetabix, only half of us eat breakfast at all, and many prefer to have a lie-in, while others blame the growing pressure to get to work early.
Par Excellence
Training the MIND
When most of us go to the range to practice, we are trying to build our 'competence' in golf. We work on our swing, short game and putting so that we are competent to play well. The ones who manage to build 'confidence' do manage to play well on the course. So, while we do have to build 'competence' it is useless unless we build 'confidence' too. Confidence or your attitude to the game is built by you alone and not by coaches or parents. You have to take pride in your confidence and make it the strongest part of your game.
The soup story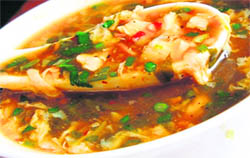 This winter, keep warm with a variety of soups available at various eating joints
A piping hot bowl of soup on a chilly evening is one of the few pleasures that winter alone can offer! A perfect companion in cold weather, a great buddy of the 'grab-and-go' snacks, it's the warmth of a soup that permeates through the throat and lends a true sensory experience to the taste-buds. Soused with delicious sauces, crispy noodles and nutritious vegetables, it's none other than the hot soup that so comfortably takes the edge in the cold winter!
chatter box
Holiday mood
It's finally December and the time to look ahead for Christmas holidays. So, what about travel plans? To help you find the best destinations for a perfect holiday, we ask actors about their favourite places. Here's what they say…