All in one go!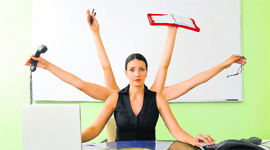 Writing an email when answering a phone call and at the same time trying to have breakfast or steering the wheel in a crowed street — multi-tasking in today's world is a given for most of us. 'There is time enough for everything in the course of the day if you do but one thing at once, but there is not time enough in the year, if you will do two things at a time," advised Lord Chesterfield years back. But gone are those times and rules that dictated life!



Pun'jab' Sandeep Joshi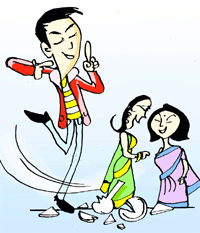 dance beta dance:

Crockery is a minor thing. My son is breaking all records with his break dance steps
Cut to weddings
Weddings continue to bring together friends and family. It is mostly during the wedding season that the fashion scene in Chandigarh picks up, as brides go for over-the-top concepts, styles and cuts to ensure it is the best look they put together for their D-Day.
Bride & beautiful
Veena Malik, the sensuous Pakistani actor, has been in the news quite on and off. She grabbed the headlines when she was a contestant in the Bigg Boss Season 4 because of her closeness with actor Ashmit Patel; then she became a vegetarian for the PETA campaign and recently posed nude for the FHM men's magazine.
Gyan Zone
SHELL-ing out wonders
Religion has the innate capacity to bind people from different parts of the world. This is perhaps the reason why Jaskiran Khatra, a homemaker based in Andaman and Nicobar Islands, tirelessly works with a local artisan to create images of religious symbols with sea shells.
Another glitzy affair
Free-flowing hand painted lehengas, smart dresses for the New Year Eve, royal kundan jewellery or daily wear trinkets in one gram gold along with some food and fun, Glitz & Galmour Fashion Exhibition promises a lot.
No more thank you!
Switch to unpleasant behaviour and avoid saying 'thank you' and 'sorry' during workplace interactions unless justified, if you want to climb the corporate ladder and earn big bucks, a new study has suggested.
Resort to the best...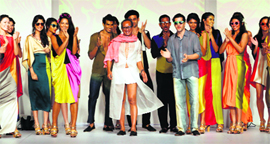 The India Resort Fashion Week kicked off on Wednesday with designer James Ferreira's trends inspired by African influence of the mosaic cut, a riot of colours, pink primrose, orange, leaf green, dust gold, electric blue, gold yellow and reds with beige and whites at Grand Hyatt, Goa. James started the catwalk with model Bhavna in white in asymmetrical tops paired with transparent skirts.
Master Chef
Say cheese
I have a confession to make...I suffer from Turophilia! I can see some eyebrows shoot up a mile in alarm. Let me put you at ease, dear readers! Turophilia is a love of cheese, bordering on obsession.
Driving force
If you are one of those who always wondered why many women struggle while parking their cars, it's better to understand that it happens simply due to lack of confidence, says a US study.
Star Track


Piaa tu ab to aa ja..


PC goes for the Kill


Do it like Deepika


Game for it?


'Kolaveri' magic once again


Bold statement


The Buck stops at Kristen


Guard of honour


Dubai calling
Chatter Box


Sunny's idea of Mr Right


Sandhya gets help


Dramatic turn


Bottled-up anger


New Releases