Stay home and stay fit
Setting up a personal gym is not difficult. Nothing beats exercising in the privacy of your house
Amit Khanna
These are desperate times. For a generation obsessed with chiselled cheeks, well-toned bodies and bulky biceps there is no limit to which one can go to attain dream stats.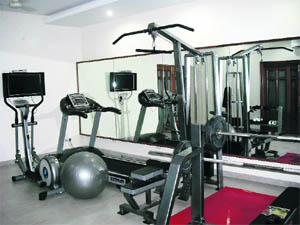 Earlier, the mantra for overall fitness was to hit the gym hard every morning or in the evenings. However, fitness freaks in the city, cramped for want of time are adopting whatever it takes to remain in shape. Even if it means to take the gym home, they are more than ready to go the extra mile. Comfort, more than anything else, seems to be the overriding factor for this recent fad of setting up a gym at home. Busy homemakers, young machos, health-conscious women, responsible dads and not-so-old grandparents in the City Beautiful are finding it better to stay in to work out. No commuting, no fees, no queuing in front of changing rooms and no time constraints are some of the reasons inspiring homeowners to indulge in the luxury of setting up a home gym despite a large number of fitness centres in the city. "This fad of setting up a personal workout area at home started some five years back. Now approximately ten per cent of the houses in the city have personal gyms. People have started making provisions in their new homes for a gym room just as they do for a puja room," avers Sudhir Gupta, owner of the oldest gym in the tri-city. We caught up with those who have set up gyms at home.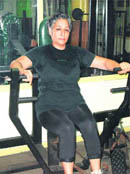 Harinder Keith, 56, housewife
I was always fitness conscious and so are my children. It has been 22 years since I started coming to a gym to help me keep mentally and physically fit. I had put on a lot of weight which I wanted to shed. I joined a gym and within two months the results were visible. Since then I have been a regular. That my children and my grandchildren encourage me to exercise is always an added motivation. I set up a gym at my home some four years back. I have a cross-trainer, gym-ball, and weights at home. I spent around Rs 10,000 at that time but that is always an investment. "Women must, irrespective of age, develop a habit of exercising regularly. It keeps one sharp," adds the proud grandmother.
Davinder Sandhu, 41, businessman

There are innumerable benefits of having a work area specified for exercise as the whole family can work out together. Moreover, the kids pick up the habit of keeping fit at a very young age. I got my home gym set up two years back and I lost some close to 14 kg in exact four months which would not have been possible as my odd working hours do not permit me to go to any outside gym regularly. I spent around Rs 2 lakh and got a treadmill, cross-trainer, pulley cable, weights machine and an LCD. We have a gym ball and a twister. We have a 25 by 18 feet area, which we regularly upgrade in order to give it a feel of the real gym.
Asha Gupta, 64, homemaker
At this age if I do not at all feel tired it is because I am regular at my home gym. Earlier, I used to go for walks in the morning and evening, but somehow I felt that was not enough and with advice from my personal trainer I decided to have a small gym at my home where I could exercise comfortably. My aim was not to lose weight but to keep myself active. I do some weights and aerobics training everyday at my home gym.
Shaman and Shipra Jain, In their 30s. Tax consultant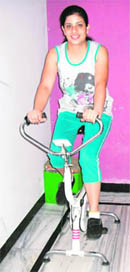 I was a regular gym-goer earlier but it was some three years back when I decided to set up a gym at my place because it was getting increasingly difficult to sneak in even half an hour for exercise from my busy work schedule. Moreover, my wife who too for the want of time could not visit any gym can now exercise in the comfort of our home. We started with the bare minimum of equipments (exercise cycle, muti-gym, treadmill, rod and plain bench) as the core area for me was to focus on fitness.  "It became tough for me to go out gymming with my children growing up. The odd hours and our other responsibilities did not leave us with much choice. Moreover it is convenient exercising at home as you do not have to share exercising space with people you are not acquainted with. Privacy is very important and a home gym helps in this regard. Sometimes, our friends too come to our place to exercise with us. That takes care of the socialising part too," shares Shipra.
The basic equipment available and the cost
n Treadmill – starts from Rs 5,000 and goes up to Rs 50,000.
n Cross-trainer – ranges between Rs 7,000 and Rs 30,000. It combines both the running and stair-climbing exercises, without putting too much pressure on joints.
n Exercise cycle – Costs between Rs 3,000 and Rs 8,000.
n Twister – it works on the waistline and is availablefor around Rs 1,200 to Rs 2,000.
n Gym-ball – It is a hit among children. Its price starts from Rs 500.
n Ab-pro king/abdominal board – works on the abdominals and costs around Rs 2,500 to 3,000.
n Plain bench – for basic exercises. Costs around Rs 1,500.
n Pipe rolling – its around 5.5 feet, costs around Rs 200.
Tips to set up home gym
n Earmark the place you find most pleasurable and which has sunlight and fresh air.
n Decide the budget, consult a trainer and choose the equipment smartly.
n Attend an outside gym for at least three months.
nGet the gym area cleaned every day.
n Buy some equipment for kids too like a gym-ball to make it a family affair.