M A I N N E W S
Tearful farewell to Dev Anand
London, December 10
Dev Anand, who ruled the hearts of millions of film enthusiasts for over six decades, was today bid a tearful adieu as his mortal remains were consigned to flames amid the tunes of some of his most memorable songs 'Abhi Na Jao Chor ke' and 'Gata Rahe Mera Dil'.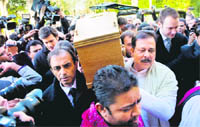 END OF AN ERA: Dev Anand's son Suneil (L) and Sahara India chairman Subroto Roy carry his casket at the Putney Vale Crematorium in London on Saturday. The legend's ashes would be flown back to Mumbai. — AP/PTI
The funeral ceremony was joined in by a large number of people, including his family and close friends like Lord Meghnad Desai and Sahara chief Subroto Roy, as his last rites were held according to Hindu tradition at the Putney Vale Crematorium here.
His body kept in a casket, decked with flowers, was taken to the crematorium in a motorcade as his admirers paid him rich tributes.
His wife Kalpana Kartik could not attend as she had high blood pressure and remained behind in the Washington Mayfair hotel where the actor breathed his last.
Besides his son Suneil and daughter Devina, his sister Sheila Kapoor, the mother of filmmaker Shekhar Kapur, were also present. So were the acting High Commissioner of India Rakesh Prasad, his close friend Kartar Lalvani, Lord Karan Billimoria, and Baroness Shreela Flather. Dev Anand died here on December 3 at the age of 88 with his son by his side.
While fans in India could not have a last glimpse of the star, his ashes will be flown back to Mumbai, the city associated for over 60 years with the thespian's incomparable body of work. A memorial service will be held at the Mehboob studio in Mumbai on December 15.
True to his full-of-life image, his final journey saw some of his remarkable songs being sung as a tribute.
Besides 'Abhi Na Jao Chor ke' from his 1961 movie Hum Dono and 'Gata Rahe Mera Dil' from the 1965 classic Guide, 'Phoolon ka taron ka' from the 1971 hit 'Hare Rama Hare Krishna' rented the air.
"I am comforted that he is with the Lord. The spirit of Dev Anand will live forever," said his son Suneil.
Dev Anand, known for his signature puff hair and swagger, lived by the philosophy of 'Main Zindagi Ka Saath Nibhata chala gaya, har fikar ko dhuen mein udata chala gaya', a song written for him by friend Sahir Ludhianvi.
"He was an eternal optimist and full of life. Dev Anand was one of the greatest showmen and kindest human being, his generosity knew no bounds. The world has lost a true legend," said his nephew Tony Sareen. — PTI