A rare talent

From Iran to the Deccan in India, the range of works of Farrukh Beg, who worked at many places and for different patrons, is truly wide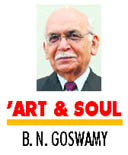 In that monumental two-volume study, Masters of Indian Painting: 1100-1900, which appeared from Zurich recently to coincide with the ground-breaking exhibition on the same theme currently showing at the Metropolitan Museum of Art in New York, figures a truly remarkable group of painters.
Among them — Rajasthanis and Paharis and Deccanis and, of course, Mughals — shows up the somewhat elusive Farrukh Beg, the definitive essay on him written by Milo Beach. The essay opens with the briefest of summaries of this singularly talented man's career:

Dolor: Painting by Farrukh Beg, dated 1615.Museum of Islamic Art, Doha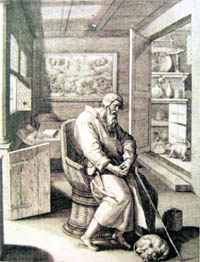 Dolor: Engraving dated 1590 by Raphael Sadeler I. Metropolitan Museum of Art, New York
"Farrukh Beg. Also known as Farrukh Husayn. Born in Iran c. 1545; died in India after c. 1619. Active in the early 1580s at the court of Mirza Muhammad-Hakim in Kabul. Active c. 1585-1590 at the court of Akbar in Lahore. Active c. 1590-1605/09 at the court of Ibrahim 'Adil Shah II in Bijapur. Active c. 1605/09-1619 at the court of Emperor Jahangir in Agra."
This might sound like a bare-bones notice, but then, it is in keeping with the scheme of the two volumes and with the rigorous scholarship of Beach. One proceeds further only to find that facts as far as ascertainable are stated with precision first; a reconstruction follows; and then an informed, often ardent, estimate of his work brings it within the reach of the reader. The vista of a life — like Farrukh Beg's — opens up, and with it the delights it left behind in the form of paintings.
Speaking of delights, consider this encomium to the painter in the hand of Zuhuri, the court-poet of Bijapur under Sultan Ibrahim 'Adil Shah, alone: "(Maulana Farrukh Husayn) than whose painting nothing better can be imagined. The expert painters take pride in being his pupils... From the sight of his black pen the green-haired (the beauteous) have learnt wiles. The freshness of his painting has put the portrait of the beautiful to shame, and has thrown it into the whirlpool of the jealously of his painting...."
The reconstruction of Farrukh Beg's career is not easy, for different scholars have seen it differently and, as Beach says, "few artists have provoked the art-historical controversy enjoyed by Farrukh Beg".
But some facts can be firmly established and some works clearly attributed to the painter on the strength of inscriptions and a close analysis of his style. That he was at the court of Mirza Hakim in Kabul for many years is accepted by everyone; again, there are leaves in the Akbar-period manuscript of the Baburnama and then, of course, the Akbarnama, including the celebrated painting of 'Akbar's triumphal entry into Surat', which bear his name; portraits of the Sultan done by him at the Bijapuri court in the Deccan carry his signatures.
But in what circumstances did he move from the court of Akbar and went on to take up employment in the Deccan, or, again, why does his name change from Farrukh Husayn to Farrukh Beg and then back to Farrukh Husayn remain, among others, matters of contention.
Beach takes all of these, and others, up and builds a finely argued case for his narrative of Farrukh Beg's life. He emerges from it as a 'clearly restless' figure, 'continually on the move': someone who 'seems to an unusual extent to have been in charge of his own life'.
His own man, so to speak, whose many moves were made possible conceivably by the status that his title — 'Beg', meaning commander or lord — gave him.
Farrukh Beg, one now knows, worked at many places, and for different patrons. The range of his work is accordingly wide. But the one image that stays in everyone's mind — oddly enough the only one of its kind that he appears to have painted — was based on a European work: an engraving titled Dolor, meaning grief or melancholy.
The European work had an ancestry. Done in 1590 by Raphael Sadeler I, based on a drawing by Maarten de Vos of Netherlands who had been inspired in turn by the great Albrecht Durer, it showed a hoary old bearded man, dressed in a long robe, hands joined, body slumping, seated on a high-backed wicker chair, looking vaguely at a desk in his chamber. All around him are panelled walls, one filled with a miscellany of objects, another featuring what looks like a large map; a small swing door stays open at the extreme left; some books lie around; a dog sleeps curled up close to the feet of the old man; on the cabinet that he sits in front of, a cat is seen upturning a jug from which milk is clearly spilling out. There is a sad air about the whole scene: an overpowering feeling of melancholy prevails.
The painting that Farrukh Beg made, based on that engraving, takes one completely by surprise, however. Deftly drawn as it is, and highly finished, it takes that very figure — similarly seated, slumping, head bent, staring — but moves him outside, under a magnificently painted but stylised tree that appears from nowhere and spreads its leafy crown over his head. Close to his feet, as if balancing the sleeping dog, he brings in a small family of sheep, two little lambs frolicking around. The cabinet in front stays in place, but the ground at the back opens up, a sward of green stretching out. But also, just behind the old, melancholic man, is a table on which a book, bound in black leather with decorative gold edges, lies, upon it resting a pair of spectacles.
While gazing at this superbly painted work — which bears an inscription in Persian identifying it as the work of "Nadir-ul 'Asr Farrukh Beg, done at the age of seventy years", and dating it in 1615 — one gets entangled also in other questions that the work raises. Why, for instance, would he, a master of the kind of work that he was capable of doing, turn to a European work? Was it a commission? Or is this how Farrukh Beg saw himself, too, at the age of seventy: old and depressed? Are the book and the spectacles at rest a reference to his own work and one of his tools, meant to be seen as a closure? Who knows?