Wrapping beauties

A Kinnauri shawl is More than a fashion statement. a connoisseur's prized possession for both its sheer beauty and utility, this shawl is perhaps the world's only wrap that carries an esoteric appeal, writes Roshni Johar
When Napoleon Bonaparte gave an exquisite Kashmiri pashmina shawl to Lady Josephine and later East India Company gifted some on Queen Victoria's birthday, Kashmiri pashmina shawls, became renowned. But currently Kinnauri shawls aregoing global due to the geometrical designs and finesse in weaving, ever since the district, once-banned for tourists, reopened for tourism.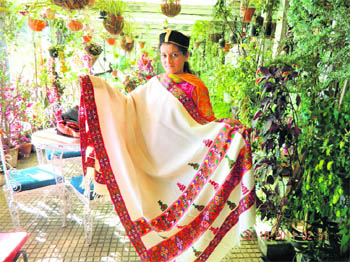 The Kinnauri shawl is a visual treat of a spectrum that reflects five primary colours, signifying nature's five elements
More than a fashion statement, Kinnauri shawl, a connoisseur's prized possession for both its sheer beauty and utility, is perhaps world's only wrap that carries a woven esoteric appeal.
Patented and bearing a GI (geographical indication) tag, this shawl comes from Himachal's mountainous valleys of tribal Kinnaur (2320-5816 mt above sea level), famed for Kinner Kailash (6,500mt), and where once the Pandavas roamed. The unique and exquisite Kinnauri shawl reflects the area's socio-religious ethos. Kinnaur's picturesque beauty intertwines with its geography and religion to influence the production of Kinnauri shawls.
Kinnaur remains cut-off from surrounding valleys during its long snowy winters. So the hazards of severe cold weather and long distances to remote, almost inaccessible, villages nestling in its mountains have made Kinnauris develop a largely self-supporting economy. Weaving articles from home-spun wool and pashmina like shawls, dohrus (woollen saris), pattoos (home-spun tweed), mufflers, caps, mojas (socks), suthans (pyjamas), pichayas (woollen shoes ), chhaulis (blankets), gudmas (carpets), etc. provide essential woollens to the Paharis to combat severe cold. The natural charm of mountains permeates into Paharis' artistic consciousness to weave highly artistic woollens.
Weaving is a way of life with Kinnauris. Each Kinnauri family keeps a small quantity of wool to meet its own requirements. After sheep is sheared, its wool is washed and dried. Combing is done with wooden combs. During leisure, especially in winter when there is no agricultural work, families spin wool on takli, a local spindle which later banuras or julahas weave on traditional looms.

Religious symbols are frequently used as motifs and these shawls are akin to 'worship in weave in praise of gods' Photos by the writer
It's amazing how Kinnaur's weaving is not only its traditional profession but over centuries, has developed into a fine art with religious and spiritual overtones, "embracing the weave, the warp and the weaver, within the folds of its social fabric".
Kinnaur lies in Himalaya's Indo-Tibetan belt, having 'a fascinating mix of Buddhism and Hinduism.' Since ages, Kinnauris have had trade relations with Tibet. This explains Tibetan and Buddhist influences on region's crafts, including traditional weaving designs. As Buddhism provides genesis for patterns, the simple weavers approach this work, not as a commercial entity, but as a creative art of weaving, with a spiritual feeling. Usually merino wool constitutes warp and weft of shawl's base, which is steel/charcoal grey, black or white. Over it are interplay of colourful angular geometrical patterns of stripes, squares, rectangles, triangles and pyramids. There is a seldom-seen complete absence of landscapes, flowers, foliage or figures of birds and animals.
The Kinnauri shawl is a visual treat of a spectrum of bright colours that reflect five primary colours, signifying nature's five elements. Fiery red represents fire, white is for water, yellow stands for earth, green for ether and blue means air/sky. Moreover, these colours have a profound sacred importance. Red stands for spiritual power, blue for transcendental knowledge and yellow means sublime truth. Nature inspires weavers to select the hues – blue from cobalt sky, green from leaves and yellow from sunflowers and mustard. Local rajas often patronise colours. Vegetable dyes are in vogue.
Sonam Tanzin, Manali's famed thanka artist reveals, "Mystical patterns are esoteric religious symbols. When these patterns are repeated, a whole rhythmical composition emerges, akin to a woven chant, nothing short of a prayer. It's worship in weave in praise of gods.' The shawl's tanka (lengthwise borders) have palpay i.e. symbols of welcome often seen in Buddhist manuscripts and gompas' arches and gates. A 'T' design is gyanak changri, meaning immortalisation of Dalai Lama, while another design of 'T' in a square is yungrun gyandon (shubh labh), which is taken from a Buddhist chant. The 'S' design represents continuity of mankind. In between these symbols are arrowstrips, stupas, chortens and pagodas, woven in pyramidical form to ward off evil spirits. Interestingly, interwoven is also the Hindu swastika, symbolising Ganesha.
Woven by hand, unaided by graphics, weaving each shawl takes around 45 days. Once sent to Tibet and bartered (now sold) at Rampur's Lavi mela (biggest fair of inner Himalayas), Bhuttico and Himachal Emporium retail them, latter's weaving centers are at Kalpa, Nichar, Rekong Peo and Jangi in Kinnaur district.