A tradition of fragrance

Grasse is the French perfume capital. The fields are full of flowers all year round to perpetuate its aromatic rituals, writes Inder Raj Ahluwalia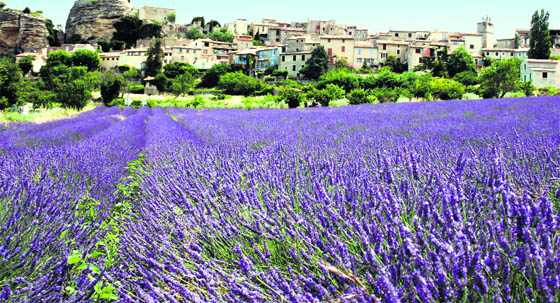 A field of flowers near Grasse Thinkstockphotos/ Getty Images
As little girls, Agnes Costa and her sister Francoise played in the fields of Grasse, the French perfume capital, gathering the sweetest flowers to bring home. Today, the sisters and heirs to the venerable Fragonard fragrance firm still love to pick flowers – only now they share their bouquets with the whole world.
Being in the perfume business is a special bonus for a woman, and Agnes is aware of how lucky she is.
The sisters' work passage was a rather smooth affair. Moving into the firm started by her great grandfather in 1926, Agnes, now works with her two sisters, one a doctor, who advises on the chemical side of things, the other looking after administration and marketing, while she herself promotes the company worldwide as she loves to 'talk and travel.'
"The perfume business is living and working in a world of luxury," she gushes. True enough! Even basic, reasonably priced perfumes involve the best bottles and packaging.
Fragonard's headquarters is in Grasse, where they have two factories, two museums and five shops. They also have a factory and shop in Eze, and a strong presence in Paris, with two museums with shops and an independent shop on the Left Bank.
Violets in January, carnations in June, jasmine all summer long, tuberoses in September, all picked in the fields around Grasse, to perpetuate a fragrant and very feminine tradition.
Success and fame have come. Agnes feels they've made their mark in the perfume industry. While nowhere near the biggest perfume house, they've managed to remain exclusive and have excelled in showing the know-how of perfumes. In a highly competitive market, Fragonard's success in occupying a niche area makes them comfortable in a market scenario where people are constantly seeking products.
While some perfumes sell more than others, they all have their following. Their most popular ones are Soleil (Sun) and Belle de Nuit, whose sequined pouch comes from India.
Much of Fragonard's appeal lies in the fact that they've preserved the artisanal atmosphere of a long-established perfume house. Open for daily visits, the perfumery is a treasure house of information. Visitors are introduced to the world of perfumes, learning about the 'scents within scents'. The conducted tour includes a visit through the establishment with its copper vats of sweet-smelling essences, to see distillation being done in copper stills, with the use of local flowers like jasmine, rose, orange blossom and lavender. One can learn about the finer points of each of these prime flowers with their distinct flavours and herbal characteristics.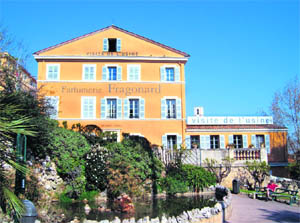 The perfumery's museum exhibits a local and international collection of boxes, bottles, and beauty-cases going back to the 16th century
There are diverse product line ranging from bath oils and soaps to scented candles and those aluminium bottles of fragrances that are now so trendy but which they've used since 1926.
There are cellars for maceration and filtering, a laboratory for essential oils purification, special rooms for making the pomades, and a soap-manufacturing unit. You can also sample their special perfumes in the in-house boutique and buy them at ex-factory prices.
The perfumery's museum exhibits a unique, priceless local and international collection of boxes, bottles, and beauty-cases going back to the 16th century, and documents that record the perfume industry's history going back almost 3,000 years. Most of the exhibits were collected by Jean-Francois Costa, Agnes and Francoise's father.
There is also the 'nose', a very special kind of professional in the business. Working, experimenting, and adapting with scores of different products and scents to create one single perfume, the ' nose' has a very crucial role to play, being the person, who actually creates the perfumes. In order to 'smell' his creation, he has to have ideas, taste, knowledge of the public's tastes, and also the ability to forecast fashion changes.
One can even try one's hand at making one's own perfume, thanks to their special sessions. The two-hour workshops on the preliminaries of aromatherapy are understandably popular.
Agnes and Francoise aren't the only Costas involved in the family legacy of beauty. Their mother, Helene's love of exquisite fabrics spawned another exciting venture in Grasse – the Museum of Provencal Costume and Jewellery. Among its exhibits are Indian fabrics carted across the seas in earlier times.
Agnes now has a definite India connection. For several years now she's been sourcing Indian jewellery and fabrics like organdie and cotton.
"We enjoy the freedom this business presents. The public is quick to judge the merits or otherwise of a particular product, and this defines success or failure. Its up to us, and we have the freedom to charter our course. Being involved in a family operation, we're free to follow ours instincts – and our hearts." How's that for a fragrant outburst and baring of the soul.
QUICK FACTS
How to reach: Fragonard is located in the town of Grasse, about an hour's drive from Nice, which has air connections to Paris and several European cities.
What to do: There are daily conducted tours to Grasse from Nice and Cannes. Allow four hours to tour the factory, attend a perfume class, and shop.
Where to stay: Grasse has several hotels of all categories.
Where to eat: Dining options range from gastronomy restaurants to casual cafes.