Riding the air

Top 10 hot air balloon destinations
Nature's beauty reaches a peak in autumn, as the leaves take on vibrant colours. This year consider a autumn foliage tour. Check out www.cheapflights.com top 10 list of hot air balloon autumn destinations.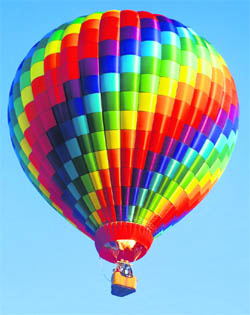 Balloon rides are perfect for autumn foliage tour
Hokkaido, Japan: A large island in the northernmost region of Japan, Hokkaido is a great place to witness the change of seasons known by the Japanese as momiji. Hokkaido also has numerous national parks, including Shikotsu-Toya, which has many volcanic hot springs.
Catskill Mountains, New York, US: North of New York City, in the central part of the state, stretches the Catskill Mountains. Waterfalls, rivers, lakes and valleys create breathtaking landscapes.
Coconino National Forest, Arizona, US: The Coconino National Forest puts on a great foliage show during autumn around the Flagstaff area. Most of the Coconino's towering white birches turn to golden yellow in September. The rest of the national forest is made up of volcanic peaks, plateaus and ponderosa pines.
Prince Edward Island, Canada: In autumn, Prince Edward Island is bursting with fall colour. It has beautiful landscape of coastal lighthouses, sandstone cliffs, lush farmlands, and blazing red maple forests.
Green Mountains, US: Green Mountains are part of the Appalachian Mountains that stretch through Vermont. During fall, the colours of the rolling hills are like an Impressionist painting. Check out Quechee for its fantastic gorge.
Loire Valley, France: While Loire Valley, just a few hours outside of Paris, is a popular destination for tasting, touring and learning about popular French wines, its impeccable landscape makes the list for places to be viewed from above, especially during fall foliage. There are hot air balloon tours above meandering vineyards, historical chateaus and the winding Loire River. The foliage season also coincides with the exciting grape harvesting season.
Vilnius, Lithuania: Lithuania's capital city is full of history and exquisite architecture, and just outside the city limits is a stunning landscape that is perfect to gaze from above. A few companies offer flights over Trakai and its medieval castle, rolling hills and gentle lakes.
North Shore Region, Minnesota, US: Resting on the edge of Lake Superior, Minnesota's north shore is a dream for hot air balloon enthusiasts in fall. A landscape made up of rocky cliffs, boreal forests and the pristine beauty of a great Lake, mixed with changing colour of leaves makes it an unforgettable sight. There are great hiking trails. It's also a great port city to explore as well.
Lapland Region, Finland: Surprising, the Finnish Lapland has several areas of multicoloured forests. Visitors get a view of burnt orange and fiery red of the Lapland forests and reindeer, bears, several kinds of bird and plenty more. Due to its arctic location, foliage occurs much earlier in the fall, so book early.
Laurentian Mountains, Quebec, Canada: The Laurentian Mountains, in Quebec territory, are the perfect place to celebrate fall. The populous birch trees add warm yellows with the majestic maples, creating the rich red that Canada is famous for. Many hot air balloon tours are available near Quebec City. — Reuters