The never-say-die hero

One of the most successful stars in the history of Indian cinema, Dev Anand managed to remain in the limelight despite his limitations, both as an actor and a director. A tribute by M. L. Dhawan
An institution in himself, Dev Anand, who died recently, remained an integral part the Hindi film industry for about seven decades. His romantic persona, dialogue delivery, song picturisation and mannerisms, his puffed-up hair, exaggerated motion of hands, the swagger in his gait, were legendary. For generations, he remained Hindi cinema's most charismatic personality.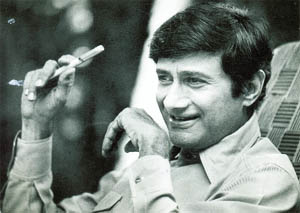 His roguish smile and naughty eyes had women drooling and he became an eternal ladies' man
No wonder, the term 'evergreen hero' was an apt description of a legend who refused to give in to the ravages of time. Despite his limitations, both as an actor and a director, Dev Anand managed to remain in the limelight throughout his cinematic life.
Notwithstanding the boxoffice status of his later-day films like Man Pasand, Lootmar (1980), Swami Dada (1982), Anand Aur Anand (1984) Awwal Number (1990), Sau Crore (1991), Return of Jewel Thief (1996), Main Solah Baras Ki (1998), Censor (2001), Love At Times Square (2003), Mr Prime Minister (2005), he still found financial backing and continued to make films till his last.
His differences with brother Vijay Anand proved to be his Waterloo. The optimist that he was, he continued to make films till his last, his latest release being Chargesheet (2011). His indomitable spirit can best be explained in a song from his film Hum Dono:
"Main zindagi ka saath nibhaata chala gaya
Har fiqr ko dhuein mein udata chala gaya."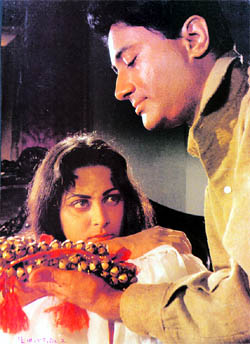 Dev Anand (1923-2011) gave a wonderfully nuanced performance in Guide opposite Waheeda Rehman
Even at 88, he had a young man's perception. His films like Mr Prime Minister and Censor, took institutions like the Censor Board or Parliament head on. The films, however, failed to make an impact at the boxoffice but that did not deter him from making films his way. Dev Anand was the only star of the earlier golden era, who bravely soldiered on in films like Heera Panna (1972), Warrant (1975), Des Pardes (1978).
His journey from Gurdaspur to Mumbai was replete with many stumbling blocks. But the ever-optimistic actor-producer-director took the bumps in his stride and never allowed any obstacles to impede his way. His brothers, Vijay and Chetan, parted ways with him, deaths of near and dear ones left him momentarily shattered, the heroines he groomed left him for greener pastures, his films flopped at the boxoffice, but all this never deterred Dev Anand, who continued to do what he loved best — making films on the subjects he passionately believed in.
He first faced the camera for Prabhat Studio's Hum Ek Hain in 1946. Based on the Hindu-Muslim-Christian unity, it had a theme with a purpose. Dev did pretty well as Shankar, one of the three youngsters. Dev's roguish smile, boyish forelock and naughty eyes had women drooling. The eternal romantic and evergreen hero arrived with a bang. G. Trivedi's Vidya (1948) saw the coming together of Suraiyya and Dev Anand. He fell headlong in love with Suraiyya. But the path of love was far from smooth. Suraiyya did not have the gumption to break free from her grandmother's dominance and the relationship ended.
Dev Anand became a symbol of romance as is evident from the way he pleads with Sadhana in "Abhi na jao chhod kar, yeh dil abhi bhara nahin" or teases Waheeda Rehman in "Hai apna dil to aawara/na jaane kis pe aayega". Or chases Asha Parekh in "Jab pyar kisi se hota hai" or asks Nutan, "Tu kahan yeh bata mane na mera dil deewana".
The romantic image, which he cultivated outlived that of his contemporaries and made him the "eternal ladies' man".
His jaunty walk, confident manner and over-stylised dialogue delivery in films like Paying Guest, Munimji, Love Marriage, Hum Dono, Tere Mere Sapne, Tere Ghar Ke Samne, Johnny Mera Naam, etc. made him synonymous with success. He played morally ambient characters in earlier films like CID, Kala Bazar, Pocket Maar, Bambai Ka Babu etc but Guide made him the apotheosis of the rakish-yet-good character. Those who had accused Dev of being more style than substance were proved wrong when he oozed histrionics with his hair-trigger responses in Kaala Paani (1958), besides his double-role performance in Hum Dono (1961).
He sealed all doubts with a wonderfully nuanced performance in Guide (1966). In the film, Raju, the tourist guide, was a man of amorphous morals, who saves Rosie from a crippling marriage, helps her to become a famous dancer and then forges her signatures and ends up in jail. In one of his meanderings, he is mistaken for a godman by villagers. Only this game of fraud turns out to be real. By undertaking a fast-unto-death, he combats the drought and clears the test of godliness. Raju loved Rosie but he also loved money and did not mind exploiting one to obtain the other. Raju's journey from self-righteous hurt to self-disgust to self-enlightenment was truly path-breaking.
In Prem Pujari, he propagated that the theory of non-violence held no weight when the nation is in peril.
In Tere Mere Sapne, he analysed the medical profession in all its aspects. In Des Pardes, he focussed on the immigration racket and how NRIs present false colours to marry gullible innocent people. His Swami Dada was the story of an American girl hung-up on an Indian swami. As a conscientious journalist in Sache Ka Bol Bala, he unveiled the nexus between the police and the politicians.
His magnum opus Hare Rama Hare Krishna was on the hippie cult of the 1970s. The hippies, portrayed through the character of Zeenat Aman, were shown as loveless, lost children, who had fallen into the trap of drugs due to parental neglect. From Hum Ek Hain to Chargesheet, it was an eventful journey. That his charm and charisma remained undiminished is evident from the 2003 National Awards function when he was given the prestigious Dadasaheb Phalke Award. Everyone gave him a standing ovation. His words "Acting is not just my profession, it is me," continue to echo. Dev and his winsome ways won him admirers of all ages. He worked like a man possessed and always kept pace with time, sometimes even ran ahead of time, learning all the while, making life feel great and richer.