Chemotherapy: Some useful facts
Dr Gurinderjit Singh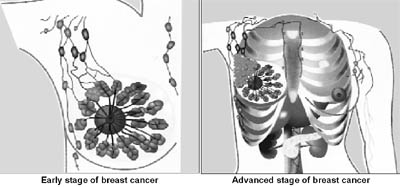 With cancer spreading fast, people often hear the word "chemotherapy". What does it exactly stand for? Chemotherapy is the use of medicines or drugs to treat cancer. Many times this treatment is just called "chemo."  Surgery and radiation therapy remove, kill or damage cancer cells in a certain area, but chemo works throughout the body. Chemo can kill cancer cells that have metastasised or spread to different parts of the body far away from the primary (original) tumour.
More than 100 chemo drugs are used in many combinations. A single chemo drug can be used to treat cancer. But in most cases the drugs work better when used in certain combinations. This is called combination chemotherapy. A combination of drugs with different actions can work together to kill more cancer cells. It can also reduce the chance that the cancer may become resistant to any one chemo drug.
What is chemotherapy?
Chemotherapy (also called chemo) is a type of cancer treatment that uses drugs to destroy cancer cells. 
How does chemotherapy work?
Chemotherapy works by stopping or slowing the growth of cancer cells, which grow and divide quickly. But it can also harm healthy cells that divide quickly, such as those that line your mouth and intestines or cause your hair to grow. Damage to healthy cells may cause side-effects. Often, side-effects get better or go away after chemotherapy is over.
What does chemotherapy do?
Depending on your type of cancer and how advanced it is, chemotherapy can do the following:
Cure cancer — when chemotherapy destroys cancer cells to the point that your doctor can no longer detect them in your body and they will not grow back.
Control cancer — when chemotherapy prevents cancer from spreading, slows its growth, or destroys cancer cells that have spread to other parts of your body.
Ease cancer symptoms (also called Palliative care) — when chemotherapy shrinks tumours that are causing pain or pressure.
 How is chemotherapy used?
Sometimes, chemotherapy is used as the only cancer treatment. But more often, you will get chemotherapy along with surgery, radiation therapy, or biological therapy. Chemotherapy can:
Make a tumour smaller before surgery or radiation therapy. This is called neo-adjuvant chemotherapy.
Destroy cancer cells that may remain after surgery or radiation therapy. This is called adjuvant chemotherapy.
Help radiation therapy and biological therapy work better.
Destroy cancer cells that have come back (recurrent cancer) or spread to other parts of your body (metastatic cancer).
 How does my doctor decide which chemotherapy drugs to use?
This choice depends on the following:
l The type of cancer you have. Some types of chemotherapy drugs are used for many types of cancer. Other drugs are used for just one or two types of cancer.
l Whether you have had chemotherapy before.
l Whether you have other health problems, such as diabetes or heart disease.
Where do I go for chemotherapy?
You may receive chemotherapy during a hospital stay, at home, or in a doctor's office, clinic, or the outpatient unit in a hospital (which means you do not have to stay overnight). No matter where you go for chemotherapy, your doctor and nurse will watch for side-effects and make any needed drug changes. 
How often will I receive chemotherapy?
Treatment schedules for chemotherapy vary widely. How often and how long you get chemotherapy depends on the following:
Your type of cancer and how advanced it is.
The goals of treatment (whether chemotherapy is used to cure your cancer, control its growth, or ease the symptoms).
The type of chemotherapy.
How your body reacts to chemotherapy.
You may receive chemotherapy in cycles. A cycle is a period of chemotherapy treatment followed by a period of rest. For instance, you might receive I week of chemotherapy followed by three weeks of rest. These four weeks make up one cycle. The rest period gives your body a change to build new healthy cells. 
Can I miss a dose of chemotherapy?
It is not good to skip a chemotherapy treatment. But sometimes your doctor or nurse may change your chemotherapy schedule. This can be due to side- effects you are having. If this happens, your doctor or nurse will explain what to do and when to start treatment again. 
How is chemotherapy given?
Chemotherapy may be given in many ways.
Injection: Chemotherapy is given by a shot in a muscle in your arm, thigh, or hip or right under the skin in the fatty part of your arm, leg, or belly.
Intra-arterial (IA): Chemotherapy goes directly into the artery that is feeding the cancer.
Intraperitoneal (IP): Chemotherapy goes directly into the peritoneal cavity (the area that contains organs such as your intestines, stomach, liver and ovaries).
Intravenous (IV): Chemotherapy goes directly into a vein.
Topically: Chemotherapy comes in a cream that you rub onto your skin.
Orally: Chemotherapy comes in pills, capsules, or liquids that you swallow.
Can I take vitamins, minerals, dietary supplements or herbs while I get chemotherapy?
Some of these products can change how chemotherapy works. For this reasons, it is important to tell your doctor or nurse about all the vitamins, minerals, dietary supplements and herbs that you take before you start chemotherapy. During chemotherapy, talk to your doctor before you take any of these products.
How will I know if my chemotherapy is working?
Your doctor will give you physical examinations and medical tests (such as blood tests and x-rays). He or she will also ask you how you feel.
You cannot tell if chemotherapy is working based on its side-effects. Some people think that severe side-effects mean chemotherapy is working well. Or that no side-effects mean that chemotherapy is not working. The truth is that side-effects have nothing to do with how well chemotherapy is fighting your cancer. 
How can I cope with my feelings during chemotherapy?
Relax: Find some quiet time and think of yourself in a favourite place. Breathe slowly or listen to soothing music. This may help you feel calmer and less stressed.
Exercise: Many people find that light exercise helps them feel better. There are many ways for you to exercise, such as walking, riding a bike, and doing yoga. Talk to your doctor or nurse about ways you can exercise.
Talk with others: Talk about your feelings with someone you trust. Choose someone who can focus on you, such as a close friend, family member, chaplain, nurse, or social worker. You may also find it helpful to talk to someone else who is getting chemotherapy.
Join a support group: Cancer support groups help people with cancer. These groups allow you to meet others with the same problems. You will have a chance to talk about your feelings and listen to other people talk about theirs. You can find out how others cope with cancer, chemotherapy and side-effects. Your doctor, nurse, or social worker may know about support groups near the place where you live. Some support groups also meet online (over the internet), which can be helpful if you cannot travel. (With inputs from the National Cancer Institute, California, US).
The writer is Medical Superintendent, Mohan Dai Oswal Multispeciality & Cancer Hospital, Ludhiana.