M A I N N E W S
Babus on their toes for SAD's Moga rally
Transport Minister says no misuse of official machinery
Kulwinder Sandhu
Tribune News Service
Moga, December 15
The state machinery is geared up for the success of the ruling SAD's December 18 Moga rally (in Kili Chahal village), which Deputy Chief Minister Sukhbir Singh Badal claims will be the world's largest. The Akalis plan to kickstart their poll campaign at this rally.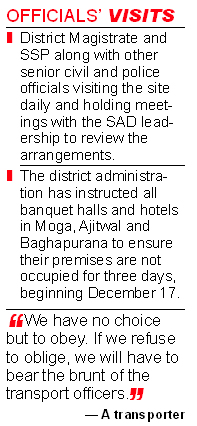 District Magistrate Ashok Singla, SSP Sneh Deep Sharma and other senior officials are daily visiting the site and holding meetings with the SAD leadership to review the arrangements.
The District Magistrate today postponed a couple of meetings of the Health Department to ensure his presence at the rally.
The SSP, the District Transport Officer and the SDM were also absent in their offices. This reporter was told by the office staff that the 'sahibs' were busy with the rally preparations. As per the official schedule prepared by his staff, the District Magistrate will not hold any meeting on December 17, 18 and 19. He is seen at his camp office at odd hours clearing routine files.
The district administration has instructed all banquet halls and hotels in Moga, Ajitwal and Baghapurana that their premises should not be occupied for three
days beginning December 17. Transport Department officials have asked private bus operators to provide vehicles to ferry crowds to the venue.
Elaborate arrangements are being made for landing of helicopters, parking vehicles and langar besides erecting a mega pandal with sitting arrangements for the crowd, said Bikramjit Singh Majithia, president of the Youth Akali Dal.
He claimed that the rally would be one of its kind in the history of the state. Local MLA and Transport Minister Surjit Kumar Jyani said in Fazilka that he has arranged 100 buses and an equal number of jeeps to ferry SAD-BJP supporters. "Payment for the hired vehicles will be made from the party fund," the minister said.
Senior leaders of the Fazilka SAD working committee Sandeep Gilhotra, Tejwant Singh Tital, Lovely Kathpal, councillor Savi Kathpal and Naresh Setia are meeting party workers to motivate them to participate in the rally. A leading transporter, pleading anonymity, said that the District Transport Officer had asked them to make all buses available for the rally. "We have no choice but to obey. If we refuse to oblige, we will have to bear the burnt of the transport officers," said another transporter. However, the Transport Minister rejected the allegation. He said no government machinery was being used for the rally at all. A Ludhiana-based bus operator said: "There are 250 mini buses and about 400 district buses in the city. They want almost all these vehicles to ferry their supporters."
- Inputs by Praful Chander Nagpal and Shivanoo Bhakoo