Office is mainly built to generate financial growth of business. Here are some tips which may prove to be beneficial for the economic and financial growth of an organisation. The arrangement of furniture and the direction that one faces while sitting are important aspects of vaastu guidelines for office and employees.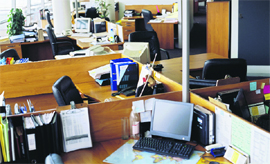 n When first setting up your business premises choose an office or work space in a prosperous neighborhood. y Make sure the entrance to your building or premises looks inviting rather than nondescript. You may need to make some simple cosmetic changes to achieve this effect. Avoid premises at the end of a T intersection.
n The best site for a building is in a corner, with the entrance diagonal to the corner itself. You should choose a rectangular or square plot for your office.
n Make sure that the height of the building is equal in all sides.
n Overhead tank should not be located in the northeast.
n Boss should sit in south-west facing east or north. The seating arrangement of senior executives, should be in southern, western and southwestern portions of the office.
n Pantry should be in south-east or north-west.
n Marketing departments should be in north-west.
n Northern and eastern zones would be appropriate for seating the middle level officers. Reserve the northwest portion for the field staff.
n If it is a bank or a financial institution cashier's seat should be in north.
n Purchase department and other should be in south or west.
n Computer room should be in south-east.
n The accounts department should be located in the southeast direction.
n The right place for reception counter is northeast portion of the office. The receptionist should sit facing the north or east direction.
n Ensure that the telephone and side-tables are positioned in the south-west corner of the office.
n Make sure that you do not keep any obstacle in the opening of any door of your office.
n It is suggested that the staff should work while facing the north or east directions.
n The employees should not sit under a beam. In case the beam cannot be avoided, it is best to cover it with a wooden board.
n Central zone of office premises should be kept empty.
n Store all the important documents in an almirah or safe, which should be placed in the southwest direction.
n It is advisable to have a rectangular desk for the owner of the company.
n Boring or tubewell installation in the southern direction of the office is not recommended.
n The appropriate location for the toilet is northeast and southwest directions.
n Make sure that your office is not built near a temple, graveyard or hospital.
n Doors and windows of the office should be positioned in the north and east direction.
n Place a picture of a lake, waterfall or any other water scene on one of the walls in your wealth corner. Water represents energy flow.
n Use an aquarium or a small fountain if you prefer.
n Place a green, smooth-leafed plant (e.g., a jade plant) on a shelf in this corner. You can substitute an artificial plant if you tend to neglect fresh ones. The allusion to growing wealth is obvious.
n Sit in the corner farthest from the entrance to the room to have a "command" position.
n Sit in line with the door, as you will be in the path of negative energy.
n Keep your back toward a corner or a wall for support. If a post protrudes from the corner or wall, correct it by covering it with a hanging plant's draping foliage.
n Sit with a tall building behind you to provide the support of a "mountain" if your back is to a window.
n Do not face away from the door if you are conducting business from home. Business will symbolically come to you through the door, so don't turn your back on it. Do not arrange your workspace so that you look straight out into a corridor or see the stairs, storage rooms, closets, elevators, escalators, or toilets.
— The writer is a Chandigarh-based Vaastu consultant. Readers can send their suggestions/queries at [email protected].