Games that the young love to play
Want to enjoy the feel of playing a sport without much ado? Then, it is the many options that a gaming zone gives which are your best bet, writes Ruma Kat
For people who have sports on their minds but who don't want to go to the field or sports ground, there's this world of indoor sports or the "gaming zone". Youngsters today are keen to hop on to this bandwagon instead of indulging in full time sports. Almost all cities are offering them with a lot of options where they can come to play these recreational sports.
For sports like cricket, golf, football, hockey etc. you need to have proper infrastructure, you need to have lots of time at your disposal, you also need to have a team of players and so on. I mean it's not as if you can just get up and start playing hockey all of a sudden.
Bowling
Abhinav Bansal (22) was motivated by his friend from New York to begin a bowling zone in Chandigarh. And thus, he kept the place's name 'Times Square', a name that rocks the bowling world in New York. Even though it comes as one of the expensive games (Rs 150 per head per game), yet students don't mind shelling out that much to come and enjoy a game daily with their friends. "Till now, there hasn't been a single day, when our bowling zone is not used. These might be the examination days, yet you can see students coming here to enjoy and play," says Abhinav. "This is my favourite game after golf. I love target games, where I have to aim an object. So bowling is super fun for that matter," says Ankur Goyal, BA 3rd year student from DAV College, Sector 10 Chandigarh. "Yet he always loses in every bet we put in this game," adds his friend Bhavuk Uppal.
Table soccer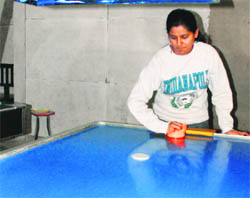 Air hockey is a favourite because there are not many rules to follow and no typical techniques
"I first saw this game in the film Bend It Like Beckham some five years ago. And since then, I was keen to play it once," says Niketa Bansal, 3rd year student from INIFD, Sector 8 Chandigarh. Today, she is one of the regular players at the gaming zone in DT Mall, Industrial Area Chandigarh, which provides a table for foosball. This game is also known as table soccer, and comes in many forms like hockey, ice hockey, football et al. This table stands some tiny players dressed in their jerseys, and as many handles by which two or more individuals can control these miniatures to hit the ball in the goals.
"This game has so many advantages. The best thing is that we don't need to dress up in our jerseys and shoes and drive to a playground with sunscreens applied. Then, we need not find 11 people to make a team and then play. I usually come here with one or two of my friends half an hour before our movie, for a game. It's fun to play a game in jeans or whatever clothes one is wearing," says Jasmine Kaur Malhotra, who works in the IT Park, just close to the mall. A full-size board for table soccer can also be found at Planet Sports, Sector 17 Chandigarh.
Mini golf
If golf is considered to be an elite sport, then mini golf can be one of the easiest-to-set and economical sports. If you own a small garden in your home, you just need a putter and a golf ball to play this game for as long as you want. This will not only pass your time efficiently but also improve your short game notably. Also, if your garden or the open space isn't straight and there are many obstacles in between, then it is even beneficial for it gives you a vast opportunity to putt in various ways. Mini golf is very famous outside India, but is still catching interest here. Zaika Restaurant, Sector 26 Chandigarh, gives you a small space with artificial green mat and some clubs to play a shot while your family and friends are enjoying their meal.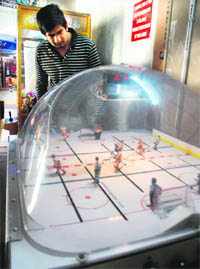 The best thing about playing table soccer is that one does not have to drive to a playground with sunscreens applied
Scrabble
"Every man dies; not every man truly Scrabbles", was the tagline of a show by Chuck Woolery, which began to promote the game in 1990s. But today scrabble needs no promotion. Almost all of us must have played it right from our childhood. Most parents also encourage their kids to play this board game in order to enhance their kids' word building power.
But there are some youngsters, who have been introduced by their friends to play scrabble. "I played it first time today, and it was so much fun. The words we use in our day-to-day life suddenly become relevant when we have to remember and build them to earn points. I lost to my friend today, but I'm going to play it every day now and will beat her soon," said Rupinder Kaur, a student from Panjab University Chandigarh, who was at the Books and Brew Café, Sector 38, where anyone can come and play scrabble over a cup of coffee.
Air hockey
"When I don't have anything to do in my evenings, I have one best option: To buzz my friend for a game of air hockey!" says Simar Singh, student class 12th, Shemrock School Mohali. This game is the oldest, easiest and cheapest that one can find in any gaming zone. And because of this, it is widely played by all youngsters. With not many rules to follow, and no typical techniques to play, it is also a likable sport by all groups of ages. As the famous quote from Bob Basso goes, "If it's not fun, then you're not doing it right." If you do not have time to go to a ground and play a real game, then do not keep sitting idle in front of your computers. Join this world of 'gaming zone' and see how right you are doing things in your life. Experience some fun!