M A I N N E W S
PM: FDI in retail after Assembly elections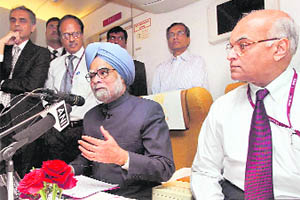 Prime Minister Manmohan Singh with NSA Shiv Shankar Menon addresses mediapersons onboard his special aircraft to New Delhi on Saturday after his Russia visit. — PTI
On board Air India One
December 17
In the back drop of corporate and foreign investors being miffed over the government suspending its decision on foreign equity in multi-brand retail, Prime Minister Manmohan Singh on Saturday said his government will take up implementation of this policy next year after consultations with opposition parties once elections to various assemblies are over.
Manmohan Singh also said his government was committed to go moving forward with economic reforms, which were initiated under his stewardship as finance minister in the Congress government under then prime minister P.V. Narasimha Rao between 1991 and 1996.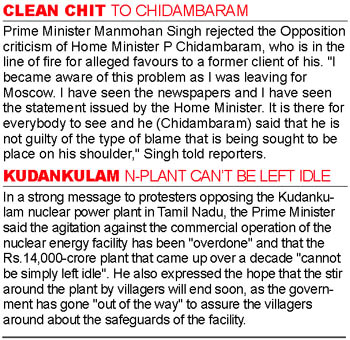 However, he blamed "political compulsions" for the government taking such hard decisions to rollback or suspend policies.
"We have to evolve a broad-based consensus and we will work towards that. It's my hope that once the elections to the various state assemblies, which are in the offing, are over, all political parties can sit together, and we will then explore with them the possibilities of implementing the decision, which is placed on hold," he said.
Manmohan Singh was interacting with media persons on board his special aircraft while returning home from Moscow after attending a summit meet with Russian President Dmitry Medvedev.
Responding to the increasingly belligerent criticism of his government over suspended key decision on economic reforms, he said the UPA was "committed to reforms as ever", but blamed the rollbacks and putting crucial decisions on hold to "political compulsions."
"Our government stands committed to reforms as ever before. But there is such a thing as political compulsion. Given the nature of coalition... the fact that we, as the Congress party, do not have a majority (in parliament), we have to move at a pace whereby all our allies can be on the same page," he said.
"Therefore that certainly restricts our options. But we are hopeful that some essential reform... we can still push through after we have engaged our allies in a constructive, productive dialogue," he said, adding that "there is no other way in which we can move forward."
Manmohan Singh was also sure that captains of industry recognised, as much as anybody else, what "the reality of political situation" in India is. — IANS