M A I N N E W S
Bhagvad Gita faces ban in Russia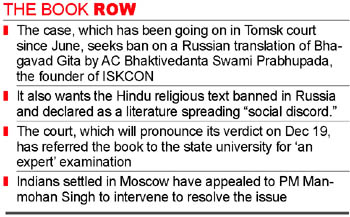 Moscow, December 17
The Bhagvad Gita, one of the holiest Hindu scriptures, is facing a legal ban and the prospect of being branded as "an extremist" literature across Russia. A court in Siberia's Tomsk city is set to deliver its final verdict on Monday in a case filed by state prosecutors.
The final pronouncement in the case will come two days after Prime Minister Manmohan Singh during his December 15-17 official visit for a bilateral summit with Russian President Dmitry Medvedev consolidated bilateral trade and strategic ties and personal friendship.
The case, which has been going on in Tomsk court since June, seeks ban on a Russian translation of "Bhagvad Gita As It Is" written by AC Bhaktivedanta Swami Prabhupada, the founder of the International Society for Krishna Consciousness (ISKCON).
It also wants the Hindu religious text banned in Russia and declared as a literature spreading "social discord", its distribution on Russian soil rendered illegal.
In view of the case, Indians settled in Moscow, numbering around 15,000, and followers of the ISKCON religious movement here have appealed to Manmohan Singh and his government to intervene diplomatically to resolve the issue in favour of the scripture, an important part of Indian epic Mahabharata written by sage Ved Vyas.
The ISKCON followers in Russia have also written a letter to the Prime Minister's Office in New Delhi, calling for immediate intervention, lest the religious freedom of Hindus living here be compromised.
"The case is coming up for a final verdict on Monday in Tomsk court. We want all efforts from the Indian government to protect the religious rights of Hindus in Russia," Sadhu Priya Das of ISKCON and a devotee of a 40-year-old Krishna temple in central Moscow, told IANS.
The court, which took up the case filed by the state prosecutors, had referred the book to the Tomsk State University for 'an expert' examination on October 25.
But Hindu groups in Russia, particularly followers of ISKCON, say the university was not qualified as it lacked Indologists who study history and cultures, languages, and literature of the Indian subcontinent.
The Hindus pleaded with the court that the case was inspired by religious bias and intolerance from a "majority religious group in Russia", and have sought that their rights to practice their religious beliefs be upheld.
The prosecutor's case also seeks to ban the preachings of Prabhupada and ISKCON's religious beliefs, claiming these were "extremist" in nature and preached "hatred" of other religious beliefs.
"They have not just tried to get the Bhagvad Gita banned, but also brand our religious beliefs and preachings as extremist," Das said.
The ISKCON devotees have taken up the matter with the Indian embassy in Moscow too for an early diplomatic intervention before things get worse and the court passes an adverse verdict banning the Bhagavad Gita and Krishna consciousness teachings. — IANS