ART & LITERATURE

'ART & SOUL
ENTERTAINMENT

TELEVISION

GARDEN LIFE

NATURE

FOOD TALK

CONSUMER, BEWARE!

FASHION

GLOBOSCOPE

BRIDGE

ULTA-PULTA
EARLIER FEATURE

TRAVEL

RELATIONSHIPS

DREAM THEME

TIME OFF
SalmanToor The painter who celebrates kitsch
Salma Mahmud etches a portrait of the young artist from Pakistan, who is making waves in his country as well as abroad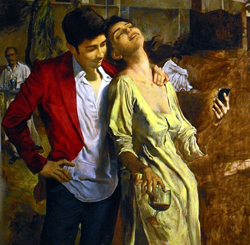 The agonised expression on the face of the Gorgon Medusa in the centre of Perseus' mirror-shield as he prepares to cut off her head in Reubens' Perseus and Andromeda is a foreshadowing of Salman Toor's horror-struck faces in his varied portfolios. Witness his canvas, The Useless Prince, recently exhibited at Lahore's innovative Rohtas II Gallery. This face is reminiscent of his earlier ravaged countenance of a young man, petrified and amazed, which, in turn, reminds the viewer of Gustave Courbet's Self Portrait, The Desperate Man, with his wide staring eyes and hands tearing at his hair.

Paradise Villas (Oil on canvas)

Antikythera mechanism The world's first computer
Discovered in a shipwreck, the Antikythera Mechanism exhibited in the National Archaelogical Museum in Athens was a startling invention. The instrument could, on any date, determine the exact position of the sun, the moon, the known planets, their position in the constellations, and also the days left for the next Olympic games
Siddhartha Wig
I had chanced upon an interesting article, "Decoding the world's first computer" a few months ago in a compilation of the best science writing for the last year. There, among a series of serious science writings, this had caught my fancy. What amazed me was the uniqueness of the find, how it was discovered and the thrill of how it was decoded.
Wake up to A new dawn
As the world awaits the dawn of 2012, Shobita Shivshankar lists some popular sunrise global spots to welcome it
How do you plan to say goodbye to 2011 and welcome the first rays of the New Year? Maybe huddled in your blanket in front of the TV watching the world celebrate; or partying with a small group of friends; or chanting devotional mantras for prosperity; or just following your daily routine wondering what's so special about the first break of dawn of the New Year?
Back to the 1980s
Bollywood went retro with a vengeance this year. The strategy yielded rich dividends as action potboilers and a biopic about a southern seductress of yore raked in big bucks, writes Saibal Chatterjee
The Mumbai movie industry walked backwards in 2011. Retro was in. A slew of releases sought inspiration in narrative formulations of the 1980s. Bollywood's boxoffice fortunes soared as several full-on action potboilers raked in big bucks.