SalmanToor The painter who celebrates kitsch

Salma Mahmud etches a portrait of the young artist from Pakistan, who is making waves in his country as well as abroad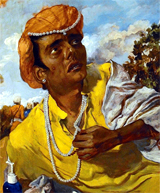 Useless Prince (Oil on masonite)
The agonised expression on the face of the Gorgon Medusa in the centre of Perseus' mirror-shield as he prepares to cut off her head in Reubens' Perseus and Andromeda is a foreshadowing of Salman Toor's horror-struck faces in his varied portfolios. Witness his canvas, The Useless Prince, recently exhibited at Lahore's innovative Rohtas II Gallery. This face is reminiscent of his earlier ravaged countenance of a young man, petrified and amazed, which, in turn, reminds the viewer of Gustave Courbet's Self Portrait, The Desperate Man, with his wide staring eyes and hands tearing at his hair. The Useless Prince, in Salman's own words, is symbolic of "The image in the West of Oriental tyrannical rulers imprisoned in luxurious impotence."
Salman is a master of creative recreation, if I might coin a phrase, drawing inspiration from the works of old masters as well as from the powerful painting of the modern artist John Currin, the shooting star of American figurative art, whom he greatly admires.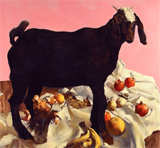 Barbie Bakri (Oil on linen)
Some art critics such as Jed Perl in The New Republic, have dubbed Currin's work the apogee of meta-trash triumphant, but Salman would definitely not agree, as he admires the artist's consummate skill as a painter and his dedication to representational art. Currin is also accused of having no serious content at all in his work, whereas at the young age of 28, Salman is already painting pictures which cast a satiric yet humorous look at the social scene in his own country, as well as hoping to eventually represent a global outlook.
However, it is to the artists of the 17th and 19th century that Salman owes the most in stylistic terms. The movement, colour and baroque sensuality of Reubens is a preparation for all those who came after him, and this was in the 17th century. The same century saw the power and pulsating movements of Caravaggio's themes. The 18th century was a more controlled period of Neo-Classicism, but towards its last decades the stirrings of Romanticism could be felt, and Gustave Courbet then held sway. He is described as a realist, but within those parameters there can be nothing more emotionally moving than his paintings.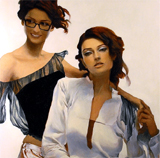 Smooth White Dream (Oil on canvas)
Salman has learned a great deal from his study of the classical masters, and while living in New York for the past several years, he has made a point of visiting that city's major art galleries at least once a week in order to draw inspiration from their techniques and themes. Situated near Union Square, he was close to all inspiring galleries, such as the Metropolitan Museum, the Whitney Museum and the Frick Collection.
Salman belongs to a privileged and conservative background, growing up in a Rajput upper middleclass family, and studying at Lahore's elite Aitchison College. He began to draw as soon as he could hold a pencil, but his parents did not approve of this at all. However, he went from strength to strength and achieved a perfect score in his O-level art exam, as well as being declared a "world topper"in the college yearbook. He then won a full scholarship to Ohio Wesleyan University to do his Bachelors of Fine Arts (BFA). He felt distinctly out of place in this bastion of the mid-west, middle America, than which there can be nothing less progessive, although his university was a liberal arts one.
After four years in Ohio, he took a year off to work for an advertising firm in New York, becoming a full-fledged ad man, so as to save enough to support himself in the pursuit of his chosen field. But at the end of the day he felt he could no longer tell lies, and opted out of the job, having set aside enough funds to manage for the time being. He then won a partial scholarship to the prestigious Pratt Institute in New York to do his Masters in Fine Arts (MFA), and since then it has been all flags flying for Salman.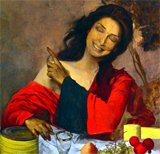 Recipe (Oil on canvas)
So what about his various themes over the last few years? He has exhibited in several venues abroad and has had three one-man shows in Pakistan, the most recent being entitled "I Love Kitsch". Since all but one of the seven oil paintings shown there were sold almost immediately, there are obviously plenty of other people who love kitsch. Is this art form merely pretentious trash, as some would have it? I would say not at all. In Salman Toor's recent work each canvas has a sardonic statement to make about our consumer-oriented society, in which gems, washing machines and cellphones are the ultimate goals of existence.
The most ironic is Paradise Villas, in which the happy couple, wine glass in hand, are lost in a dream world of classy residential schemes, but the house beyond the wall is an oldstyle one, reminding the viewer of past values, which had more depth to them. The servants, who stand in the murky background, one holding the wine carafe, glower threateningly at their masters.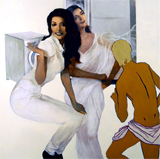 Smooth White Dream (Oil on canvas)
The air-heads, who smile out of the canvases so enticingly, have skins bleached with whitening creams, yet their hands are dark and menacing. Reema, the lovely filmstar, points into the air with one hand in Recipe, but her pose is reminiscent of Leonardo Da Vinci's John the Baptist. And we don't want to know what happened to him at the hands of Salome now, do we?
Salman's previous work depicts many different moods, from the threatening ambiance of Cleric Undressing, hinting at rape, to the exquisite sadness of the Sleeping Veiled Jinnah. And then there is the wild Bacchanalian dance of the Village Heroes, who are lost in an ecstasy all their own.
So Salman Toor is definitely going places, and is confident about the direction he is taking.
Trailblazer toor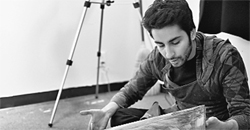 Twentyeight-year-old Salman Toor, a young student of art at Lahore's Aitchison College, had achieved a perfect score in his O-level art exam. He was declared to be a "world topper". The art prodigy has now come of age in more ways than one.
He pursued his passion for art and acquired a Masters in Fine Art from the Pratt Institute, New York. He straddles the two worlds of Lahore and New York, and has exhibited his work both at home and abroad.