Back to the 1980s

Bollywood went retro with a vengeance this year. The strategy yielded rich dividends as action potboilers and a biopic about a southern seductress of yore raked in big bucks, writes Saibal Chatterjee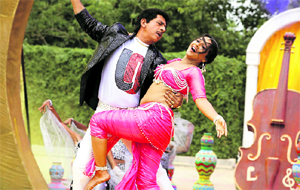 Milan Luthria's The Dirty Picture tracked the rise and fall of actor Silk Smitha
The Mumbai movie industry walked backwards in 2011. Retro was in. A slew of releases sought inspiration in narrative formulations of the 1980s. Bollywood's boxoffice fortunes soared as several full-on action potboilers raked in big bucks.
Fittingly, 2011 ended with The Dirty Picture, one of the most talked about films of the year. With the normally staid Vidya Balan playing an unabashed sex kitten, the Milan Luthria-directed film tracked the rise and fall of the unique southern seductress of the 1980s, Silk Smitha.
A rare woman-centric Hindi film to open big at the boxoffice, The Dirty Picture turned out to be a pretty move for Vidya Balan.
But that isn't how the year had begun. At the outset, a flurry of unconventional films, including Rajkumar Gupta's No One Killed Jessica and Kiran Rao's Dhobi Ghat, provided early indications that the trend set by 2010's independent breakthroughs, Udaan, Peepli Live, Tere Bin Laden and Phas Gaya Re Obama, might continue and thrive in 2011. However, the second half of the year belied that hope.
Hindi cinema had to contend with a formidable rival for eyeballs — cricket, a national obsession. The subcontinent hosted the World Cup from mid-February all the way up to early April. No sooner did that tournament end than the Indian Premier League (IPL) got underway. The overdose of live cricket forced the movie industry to slow down a tad and hold back several of its big-ticket releases.
At least, one Hindi film sought to derive mileage from the average Indian's obsession with the gentleman's game. But Patiala House, starring Akshay Kumar, Anushka Sharma and Rishi Kapoor, failed to cut much ice with the masses. But this family drama simply wasn't good enough to wean the audience away from the inducement of live cricket.
Another film that took on the cricket challenge head-on, however, fared infinitely better. Tanu Weds Manu, a lively, if none-too-fresh story of a non-resident Indian looking for a life partner in small-town India, turned out to be the surprise hit of the first quarter of 2011. Films about big fat Indian weddings do have a following. Tanu Weds Manu struck an instant chord. What worked in the film's favour was the unusual on-screen pairing of a low-key R. Madhavan and a feisty Kangna Ranaut. On the flip side of the Bollywood story were many films that were eagerly awaited, notably Madhur Bhandarkar's Dil To Bachcha Hai Ji and Vishal Bhardwaj's 7 Khoon Maaf, but were unable to make much impact.
Two other off-mainstream filmmakers — Sudhir Mishra and Rajkumar Gupta — delivered absorbing cinematic essays. Mishra's was a neo-noir film, Yeh Saali Zindagi, set in the Delhi underworld where big power, big money and big danger go hand in hand.
Gupta, on the other hand, came up with a dramatic account of the killing of a young female model in a Delhi nightclub in No One Killed Jessica. The film hinged on one woman's real-life fight to secure justice for her dead sister.
Kiran Rao's directorial debut, Dhobi Ghat, garnered much critical praise and rightly so. The quirky narrative pastiche at the heart of the film involves the experiences of a disparate bunch of Mumbai residents, all of them outsiders, both physically and emotionally.
The Mumbai movie industry saw a complete change of pace in June-July 2011. It unleashed the usual complement of conventional potboilers like Ready, Double Dhamaal, Murder 2 and Singham and, in the bargain, hit a commercial purple patch.
The defiantly vacuous Ready, a remake of a Telugu hit, was an outright critical disaster — the reviewers hauled it over the coals. But the masses loved Salman Khan's comic persona. The film became the second highest opening day grosser ever, behind Dabangg.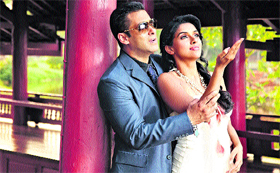 Ready, a Telugu film remake, was a critical disaster, but it became the second highest opening day grosser ever, after Dabangg
The typically raucous comic romp Double Dhamaal, a sequel to 2007's Dhamaal, by Indra Kumar did not impress critics one bit. But its tried-and-tested mix of double entendres, predictable comic gags, and bunch of conmen-buffoons out to make a fast back had the audience asking for more.
Another sequel that yielded healthy commercial dividends was Murder 2, a follow-up to a 2004 erotic thriller. With Rohit Shetty's Singham, a remake of a Tamil superhit of the same name, the formula action flick roared back into the Bollywood frame. And the Salman Khan-starrer, Bodyguard, released in August, proved yet again the timeless appeal of the no-holds-barred formula film.
Two other releases of the year — Zoya Akhtar's road movie Zindagi Na Milegi Dobara and the Aamir Khan-produced irreverent urban comedy Delhi Belly — caught the imagination of moviegoers and restored the balance somewhat in favour of commercial Hindi cinema of a significantly more evolved sensibility.
The easy-on-the-eye milieu of Zindagi Na Milegi Dobara is accentuated by its breezy, if somewhat facile, storytelling style. A road movie cast in the mould of a romantic comedy, Zindagi Na Milegi Dobara is a full-on feel-good concoction whose instant appeal stems from the stunning camerawork, the scenic locations and the beautiful people that it revolves around.
Delhi Belly is about three male friends negotiating the challenges of life in an urban setting. But in look, feel and spirit, it is a completely different movie. Set in a dank, grimy part of Delhi, the film homed in on characters that spout cuss words at the drop of a hat, thrive on calling each other names and revel in scatological jokes.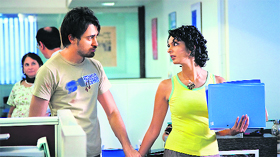 Delhi Belly, an urban comedy, worked because of its cheeky, humour-laced storyline
Delhi Belly worked because of its cheeky, humour-laced storyline that pulls no punches. Not surprisingly, the film generated a fair bit of furore.
And talking of controversies, one film that triggered more than its share was Prakash Jha's Aarakshan, which deals with the fractious issue of job quotas. But as it turned out, all the brouhaha was much ado about nothing. The film is a rather tepid take on a complex theme that appeared to err on the side of convoluted moderation.
Two big budget releases — Ra.One and Rockstar — arrived at the multiplexes amid much fanfare within weeks of each other. Both made big bucks, but little else. They failed to whet the appetite of the discerning movie buff.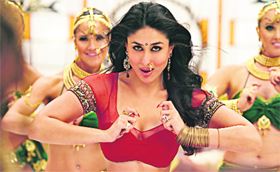 Despite a bumper opening, the monotonous videogame theme of Ra. One failed to click with the audience
Much media sound and fury preceded the release of the most expensive Hindi film ever made, Ra.One, an action-packed sci-fi thriller directed by Anubhav Sinha and produced by Shah Rukh Khan himself.
The film promised to take Hindi cinema to "the next level". Understandably, given SRK's undeniable boxoffice draw, Ra.One had a bumper opening. But this overlong, brazenly derivative and rather monotonous video game masquerading as a movie began to lose steam by the second week. Yet, Ra.One was never going to be in the red. In fact, it made pots of money. Even before it arrived at the theatres, SRK's production house had mopped up enough from the sale of the music and other pre-release rights to cover the film's Rs 160-crore budget.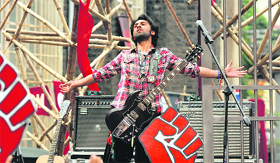 Rockstar, starring the youthful Ranbir Kapoor, was unconventional in parts but low on substance
Rockstar was spearheaded by the youthful Ranbir Kapoor, a Gen-X heartthrob with a fan following that borders on the hysterical. So a bare minimum buzz was guaranteed.
The film was an intense love story, unconventional in parts but it was rather low on substance to be able to support its lofty aspirations.
Much the same could be said of widely feted character actor Pankaj Kapur's directorial debut, Mausam. Despite its many obvious merits, Mausam was dumped rather unceremoniously by moviegoers.
Mausam was one of the biggest disappointments of an otherwise eventful year.